Art by Ron Wagner from The Book of Fate #4



Welcome to
about_faces: a fanblog dedicated to discussion and celebration of Batman's fallen ally and second-greatest foe, Harvey Dent, AKA Two-Face!

Here you'll find in-depth reviews, analysis, and critiques of Two-Face appearances both old and new, from feature roles to silly cameos, as well as essays, news, interviews, fan-art, fanfic, and miscellaneous geekery! In addition to Two-Face, this blog's secondary mission is celebration of classic Batman comics and the villains in general, as they are some of the greatest characters ever created in any medium! Well, except for Hush, because screw Hush. ;)

For full information--including disclaimers about scan usage--please read my User Info. If you have any questions, comments, concerns, complaints, requests, or whatever, please feel free to leave me a comment wherever or send me a Private Message! Comments in general are highly encouraged, as is discussion, ranting, etc.

Complete Table of Contents, Greatest Hits, and Entire Two-Face Comic Appearance Chronology coming soon!
killermoth
pointed out to me in my last post
, writer Peter Tomasi has announced that Harvey will soon be appearing in
Batman & Robin!
As I said before: not sure if want. On one hand, Tomasi's last big Two-Face story,
Nightwing: The Great Leap
might be one of my favorite Two-Face stories, despite its considerable faults. On the other hand, there are those considerable faults to... well, consider.
What's worse, I love it for reasons that seem to go against what Tomasi's own narrative WANTED me to feel. I can't tell whether or not the narrative is siding with Nightwing's own awful, offensive, and incorrect view of Harvey, especially since it seems to give Dick the last word while making Harvey just look like an evil monster. Furthermore, I hate the direction it took by suddenly turning into another bland "Two-Face goes on a rampage" story. Also, I hate Gilda being supplanted by Not!Rachel Dawes in Harvey's heart, because the idea that Harvey had an emotional affair with someone while staying with Gilda only out of his marriage vows? Wow, bullshit. Never mind that Carol was a bland non-character who was written as little more than a talking
MacGuffin
.
Also also, Tomasi was the show-runner on
Batman: Face the Face
, one of the worst Harvey Dent stories ever written. What made it especially bad was how it had a couple good ideas, then utterly pissed them away in a story riddled with plot holes, cheap writing, and an annoying ending that remains maddeningly unresolved. I guess no one cares about that story and/or Harvey and/or the Great White Shark to actually give Harvey some goddamn closure in regards to his business with both Batman and Warren White. Honestly, I think the closest we're ever going to get to a proper follow-up to that waste of a story is this fan-doodle by Shark role-player blog
Business-and-Bites
:
... So yeah, okay , there is a LOT going against Tomasi here. But he's still a great writer, generally speaking (his first run on
Green Lantern Corps
was especially excellent), and if he can tap into the good parts of his Harvey from N:TGL, then that will be awesome. Or at least, definitely worth reading. Even if his track record with the character is mixed, I'd rather see him try than anyone else on the Bat-books currently. Just as long as he doesn't delve too much in Harvey's past. So far, I haven't seen a single villain origin reboot that hasn't been disappointing at best and infuriating at worst. Funny/sad thing is, despite Tomasi's last retcon of Carol Birmingham, I think I'd still rather see him try tackling Harvey's past over any other writer at DC right now.
Hot on the heels of Tomasi's announcement, Harvey did indeed appear at the very end of
Batman and Robin the Red Hood
, making a full page cameo after an issue that featured Carrie Kelly (yes, Frank Miller's Robin from TDKR, she's here now) being caustically annoyed with Bruce, followed by
Bruce being an utterly selfish ass to Jason.
After that unpleasant fallout, the issue ends inexplicably ends on this quiet, minimalist note:
(
Spoilers for the latest issue of B&R #20
Collapse
)
As you can see, it's nothing more than a teaser for Harvey's next big appearance, with no indication of what it might be or what he might do if that coin came up scarred. Really, this page could fit in with any Two-Face of any era, which is a major reason why I like it so much. Even if the story doesn't amount to anything, at least we've gotten the neat above page out of the bargain. It's certainly the best Two-Face material to come out of a mainstream Bat-book from the New 52 so far! It only took DC about two and a half years, so that's appropriate!
Incidentally, I've edited this page a little, as it originally featured a next issue blurb in the corner that read "NEXT: BATGIRL IN
THE BARGAIN!
" and I thought that we were all better off seeing this art unencumbered by the distraction. The page's artist, Patrick Gleason, apparently agreed with me, as
he was one of the few to reblog this image when I posted it to Tumblr!
Neato! Thanks, free MS Paint knock-off software!
So yeah, I'm now good an' interested in seeing how Tomasi and Gleason's upcoming Two-Face story will play out. Only thing I'm wondering is if Harvey will retain Gleason's same molten-face look--one reminiscent of
Dick Tracy villain Haf-n-Haf
--from his cameo early on in this book's run.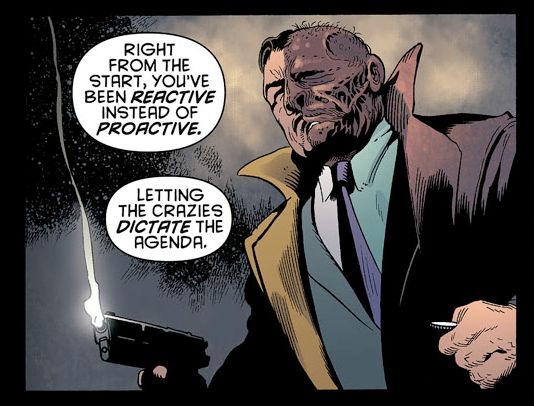 From Batman and Robin #4. Will he look the same in his first full appearance about twenty issues later?
As
You may remember
the recent issue of Legends of the Dark Knight where Harvey underwent brain surgery
in an attempt to remove Two-Face, and Batman screwed it up. You may also remember that the issue's author, TV producer Jonathan Larsen,
popped up in the comments
to offer his gracious thoughts and responses, and when he mentioned that he had some new projects in the pipeline, I told him to let us know when they were coming out. Welp, two weeks ago,
he returned
to announce that his new comic is being released, and
you can read it now!
For free! I'll let Mr. Larsen's comment speak for itself, with a couple added hotlinks by me:
I promised I'd let you know when my new project was out, and it is, so here I am! It's a free, weekly webcomic called "The Endling," and the first installment is up now, by me, an Italian artist I found named Cecilia Latella and my old Batman partner Paul Mounts on colors. It's been shepherded by comic-book deity Mark Waid and it'll be appearing on Thrillbent every Thursday. Please like The Endling on Facebook so you can let us know what you think and get notified when new installments go up. Thanks again!
Because it's taken me two weeks to get off my butt and post all this, the third part was just released today, so you can check out the first three installments back to back! So far, I'm really digging it, partially since it feels reminiscent of the 80's revival of
The Twilight Zone
, which is definitely a compliment (Alan Brennert was one of the show-runners, and this reminds me of one of his best episodes). I also really like the reading experience of Thrillbent in general, which utilizes the format in cool and effective ways. Give it a read, like it on Facebook, and let Mr. Larsen know what you think! And check out some of the other comics on Thrillbent, if you get the chance! It looks like a noble venture which deserves to do well!
Right, back to working on the other news and announcement tidbits! Hopefully LJ will stop being screwy in time for the upcoming barrage of mini-posts over the next week. I reiterate: whee!
So for the past week, I've working on another big round-up post of news and announcements, but go figure, I've gotten so long-winded on them all that I've decided to just turn them into a bunch of their own mini-posts to keep activity going here between actual reviews. First up, here's something which I should have posted about two weeks ago! Whee!
Note: As you start reading this review, you may get a sense of deja vu and asks yourself, "Wait, didn't I already read this post?" That's because I already reviewed the first part when it came out six weeks ago, with the original intention of trying to review each part every week, something I obviously didn't get around to doing. I held off for two reasons: 1.) I prefer to review stories as a whole rather than in installments which leave me in the dark, and 2.) I was lazy. So rather than have the review split into two wildly-uneven parts, I've decided to repost the important parts of the previous post along with the rest, just to have one nice, complete review. As such, if you already read and remembered what I posted six weeks ago, just skim past to the 5/6ths you haven't read. :D
The latest storyline in
DC's current digital-first Legends of the Dark Knight revival
is remarkable for several reasons. First and least, it's the longest storyline by far, as opposed to the one-shot-length tales and short stories we've gotten up till now. Secondly, the story is by old-school DC veterans
Dan Mishkin
, co-creator of
Amethyst
and
Blue Devil
, and
Tom Mandrake
, legendary
Spectre
artist and
co-creator of Black Mask
, plus he also has
experience with Two-Face
. Thirdly and most importantly, it features a fascinating take on Two-Face that vacillates between potential and disappointment, between frustration and awesomeness, resulting in a story which is a must-read for Two-Face fans even though it isn't exactly great as a whole. Well, what fan of Harvey Dent isn't used to maddening contradictions by now?
(
I'm a changed man, Father...
Collapse
)
In any case, if you're interested in reading
Without Sin
in full, you can either wait for it to be released in comic stores several months from now, or you can buy all six parts (worth two full issues) digitally at DC's Comixology store--issues
#42
through
#47
--for 99¢ each!
For a while now, I've been meaning to revise and update my posts on the entire
Batman
comic strip from 1989-1991 with bigger scans, better commentary, and all of the color Sundays I've managed to find thus far. As of today, I have completed my overhaul of
the strip's first storyline by Max Allan Collins and Marshall Rogers!
When I originally posted those strips, I was thinking less about being critical and more just going "OH MY GOD THESE ARE AWESOME I NEED TO SHOW THEM TO EVERYBODY NOW NOW NOW JUST IN CASE THE INTERNET BLOWS UP OR SOMETHING," but I've since had three years to think about these stories, so it's a pleasure to revisit and lovingly dissect them as they deserve.
Of course, with this good news comes sad news as well. Just as I begin this working on this side project,
DC legend Carmine Infantino passed at age 87.
Considering that Infantino illustrated the vast majority of the strips, this will certainly cast a pall over my revisions. I will try to do the great man justice in my revised posts, even though--as it turns out--he hated working on the strip, in no small part because he hated Batman in general! Turn out, apparently personally knowing Bob Kane will do that to a person. I'll go into that more when I revise his run.
Next item: Scott Snyder's upcoming new take on Batman's origin,
Batman: The Zero Year
, will indeed be featuring an appearance by Harvey. According to
the DC solicits for July:
The second chapter of "Zero Year" delves into Bruce Wayne's past with the Red Hood Gang and his run-ins with aspiring District Attorney Harvey Dent! And in the backup story, a secret moment from Bruce's training abroad is revealed for the first time!
As far as I'm concerned, this will be the real moment of truth when it comes to seeing how Snyder can handle writing Harvey.
His scene with Leatherface!Joker in Death of the Family was not at all good, no,
but in its way, it was no worse than any of the dozens of mediocre takes on Two-Face that we've all seen. If he screws up pre-scarring Harvey, however, then I'll be really steamed. A bad Two-Face is annoying, but a bad Harvey Dent is so much worse, and Snyder will almost certainly be adding
some
new original twist to Harvey's character and/or backstory. Heck, if he's an "aspiring District Attorney," then what does he do for a living? And what kind of "run-ins" are we talking about with Bruce, here? There's potential for this, but so far, I don't have too much faith given Snyder's track record both with villain origin reboots and Two-Face. I hope to be proven wrong.
In other news which may not seem related in any way to Batman villains, I've been thinking about
Psycho II
lately, probably due to the existence of the questionable prequel show,
Bates Motel
. As some of you may know, I adore the 1983 sequel to Hitchcock's classic adaptation of Robert Bloch's novel, and while Hitch's version is the better film all around, I personally prefer II overall. I mean, just look at the premise: an infamous, insane, costumed serial killer is sent to a mental institution, rehabilitated, and released into a world intent on driving him insane again when all he wants is a normal life free from his own demons. Gee, I wonder why that might appeal to me? If you suspect that it might also appeal to you for the same reasons, then good news,
the entirety of Psycho II is up here on YouTube, broken into several parts!
It's worth watching not just on its own merits, but also for those of us who love the Batman villains as tormented individuals, many of whom just want to have a normal life but find their efforts thwarted by monsters both within and without.
Similar to that, has anyone been watching
Breaking Bad?
Besides the fact that it's one of only things that really gets me excited anymore, it's also a stealth long-form supervillain origin, one which has helped me see many other villains in a whole new light. The final eight episodes are coming out this summer, and I'm anxious to watch them and geek out with fellow fans, and since you folks are awesome for discussion, I thought I'd toy with the idea of opening up episode discussions either here or at my even-more-neglected personal LJ,
thehefner
. If you'd like to catch up on the show but don't have access to the DVDs and/or Netflix, I will be happy to try and point your way to places online where episodes are streaming. Again, this show is really the only thing that I'm jazzed about these days, seeing as how new comics are a depressing place, so I'd love to share the geek joy (and turmoil) with y'all on this while we wait for comics to get better.
Finally, speaking of comics, has anyone else been keeping up with
Without Sin
, the
Legends of the Dark Knight
digital storyline by Dan Mishkin and Tom Mandrake? I have, and I think I'm going to hold off on reviewing it until it's over, just to see how it plays out. The way it has utilized Two-Face has been both fascinating and disappointing, and I want to see if Mishkin is going anywhere with this even as I suspect that it's not going to get any better. If you've been reading it and have any thoughts, do let me know.
Hey folks, time for another round-up of announcements, news, meandering thoughts, and other odds 'n ends!
Harvey is popping up in
the latest (digital) issue of Legends of the Dark Knight
, which is the first of six parts, thus making it the longest storyline yet to run in the digital LotDK revival. To make matters more interesting, the story is by old-school DC veterans
Dan Mishkin
, co-creator of
Amethyst
and
Blue Devil
, and
Tom Mandrake
, legendary
Spectre
artist and
co-creator of Black Mask
, plus he also has
experience with Two-Face
.
Since each installment of LotDK, like all digital releases, only constitutes 1/3rd the length of a typical 20-22 page comic, the first part of
Without Sin
(which will run in six parts, thus making it two issues) is mostly set-up and exposition. Harvey doesn't even get to do much, but his appearance here is damn intriguing, and it could potentially lead to an excellent story. Since there's not too much to go on here, I can't really review anything other than to go, "Huh, interesting, let's see where they're going with this," but let's nonetheless take a quick look at the first part of Mishkin and Mandrake's
Without Sin
.
(
I'm a changed man, Father...
Collapse
)
I don't know if I'll be able to keep up weekly reviews for the other five parts as they come out, but so if the story becomes less remarkable, I might just stop and wait to review the whole thing at the end. We'll see how the story goes, and if my own free time in real life will be cooperative. In the meantime, I wholeheartedly recommend
buying this issue at Comixology (only 99¢! Cheap!)
. This could potentially be a damn good Two-Face story, and hey, you'll be supporting two industry vets, so that's win-win.
News has come out that
IDW Publishing has partnered with DC Comics to reprint classic DC superhero comic strips
, starting with Superman and eventually going on to Batman and Wonder Woman. If you're like me, your fangasm of "Oh my god, all of these incredibly obscure and rare comics are finally being collected eeeeeeeeeeeee!" would be followed up with the question, "Wait...
which era
of Batman comic strips will be collected?"
While the current press releases do not specify, I got the answer from Dean Mullaney, the creative director of the Library of American Comics, who is putting the book together for IDW. Consider this an About_Faces exclusive, if you'd like! I wrote to Mr. Mullaney because I--perhaps presumptuously--wanted to offer my services in some capacity on the off-chance that they were going to collect the '89-'91 strips. The upcoming
Superman Dailies
book was made possible due to the contributions of a super-fan collector, and I wanted to see if I might be able to help in my own way to bring this beloved strip to the masses.
As it stands, the license that IDW/LoAC has from DC only goes up to 1972. The good news is that this means we'll finally be seeing a collection of
the impossible-to-find 60's Batman comic strip, the one that featured the creepily happy-looking Two-Face!
Hot damn, now we'll finally be able to read that full battle with all the rogues! The bad news, of course, is that there are no plans for reprinting the '89-'91 as of just yet, but Mr. Mullaney is hopeful that they'll be able to get around to those at some point.
Hopefully they will, and hopefully they'll keep me in mind too. I still have so much love for that strip, and I'd be more than happy to lend out my collection. Hell, I'd love to contribute more than that, if they'd let me. If I knew how to acquire the rights, I would be spearheading the development of that collection myself, complete with analysis, commentary, and interviews with the surviving creators. Any way--small or large--that I could help to bring this strip to bigger audiences would be an honor.
In the meantime, I'll continue to be on the lookout for affordable copies of color Sunday strips. I just found a bunch of new ones recently, so I'll be posting them here in the near future!
Scott Snyder and Greg Capullo's next big Batman project will be an eleven-part arc dubbed The Year Zero
. Quoth Snyder:
"It's not 'let's redo the origin.' It's time for a new story showing how Batman became who he is in the New 52. We tried to preserve as much of Batman's history as we could and keep what we could of this history intact. It's 'The Zero Year,' the one that no one has told the story of before. We see how Bruce became the Batman, built the cave, faced off with his first super villain ... It's time for a new story showing how Batman became who he is in The New 52. It builds up the mythology."
Most notably, Snyder also said
:
"We're not going to take apart 'Year One'... There's no touching the hem of that book."
Thing is, I can't entirely fault Snyder for this, nor is it a bad idea in theory. For all of
Batman: Year One's
considerable merits, it was really Jim Gordon's story in the year that Batman started. As such, it was up to stuff like stories in
Legends of the Dark Knight
to fill in the gaps and come up with that new backstory for the rebooted Post-Crisis era. While that's the era I like and while I don't want to see stories I enjoy get rebooted yet again, I certainly can't blame anyone for wanting to refresh that stuff for the DCnU reboot era. Retcons are part of the circle of life for DC.
On the other hand, Snyder's whole thing so far has been to build up his
own
original Batman mythology, like the Court of Owls being involved with everything, or the Joker always knowing that Bruce is Batman, or that James Gordon Junior is suddenly now Dexter but more evil. More annoyingly, he treats these revelations as if they've
always
been the case, with Jim Gordon Senior and Barbara talking about their long history with Junior as if it's old history now, or the fact that supposedly every child in Gotham knows about the Court of Owls via nursery rhyme but we're only
now
hearing about it. It's clunky retconning that technically doesn't retcon anything, while also not really jiving with established continuity.
Of course, this is a NEW continuity, so that shouldn't be a problem, right? It's Snyder's world now, and he's building it from the ground up. Okay, I get that... except, if that's the case, then why are they keeping
Batman: Year One
canon? Is he working with canon, or making his own? Well, we've been asking these kinds of questions ever since the DCnU was launched with all the foresight and planning of Leeroy Jenkins, so I guess it doesn't matter.
As always, I'm concerned about what's going to happen with the villains and supporting characters, especially after Snyder's abhorrent retcon of Mister Freeze's origin. If this is in the
Year One
-ish era, does that mean we'll be seeing D.A. Harvey Dent, and if so, what will Snyder do to him? Will the first "super villain" be the Riddler, since Snyder has been talking about doing a big Riddler story next? We'll have to wait and see, as always.
For right now, the biggest question I have--and one which I doubt anyone will answer--is what does this mean for Catwoman? If
Batman: Year One
is sacrosanct canon, does that mean that she still has the Frank Miller origin? The sex worker origin has been retconned out by the likes of Judd Winick and Ann Nocenti in Selina's own DCnU solo title, so are we ignoring what they've done because no one's read their stories and Miller's work is still incredibly popular? Or does no one really know nor care either way? Probably that one. I know I'll certainly be holding out hope that Selina's B:YO origin will be reinstated, partially because Selina's title has been utterly goddamn awful, and partially because
Henchgirl showed us all just how great a character Selina became as a result of the Post-Crisis origin
, so I'd like to that to be canon again. Insofar as ANYTHING is canon in the DCnU.
News is breaking at all major comics blogs that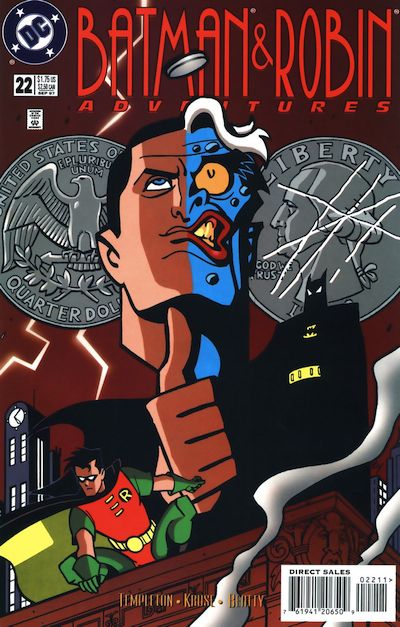 Ty Templeton was
the original DCAU Batman comic artist
who returned to title when it was rebooted as
The Batman & Robin Adventures
, but it wasn't until issue #4 that he took over writing duties. His writing style wasn't quite as gracefully operatic as the Puckett/Parobeck era of
The Batman Adventures
, but he more than made up for that by packing each issue with character moments that expanded upon the lives of these heroes and villains between the televised episodes, as well as the comic appearances that the show would never end up acknowledge.
This was especially true in the case of Two-Face, especially in the aftermath of
Paul Dini's Two Timer from TB&RA #1-2
. As you'll recall, that story expanded upon both Harvey's rehabilitation and his relationship with Grace Lamont, only to destroy them both seemingly beyond repair in a soul-crushingly depressing ending. If that were an episode of the show, that would have probably been the end of it, considering how little interest the show had in exploring Harvey as anything other than a villain for the vast majority of his appearances.
Thankfully, Templeton--who was the artist on
Two Timer
--had different plans, and he wrote three stories which each respectively fleshed out Harvey's life, backstory, and psyche. With the first of these,
Fifty Fifty
, Templeton told an unusual Two-Face tale that explored the limits of Harvey's adherence to his coin, and in the process, he managed to bring Grace Lamont back to the DCAU one final time in a way that provided some small measure of closure to their broken love story.
Unfortunately, the art by Brandon Kruse and
Wild Dog
co-creator Terry Beatty isn't quite up to par with the likes of Parobeck, Templeton, and Rick Burchett, and it's easily the weakest part of this issue, but at least we're treated to Ty's fantastic cover. It's a beautiful take on Harvey, although some of you more observant Two-Face fans might notice something a bit off about the coin. Don't worry, unlike the show's weirdly inconsistent depiction of the coin, this time it's quite coincidental!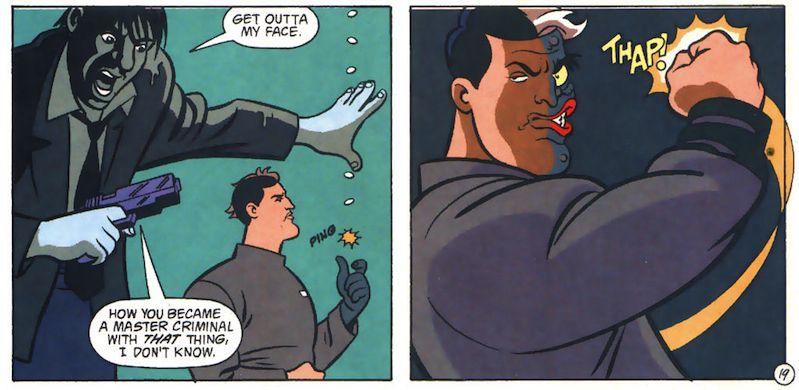 (
Harvey Dent is finally in control of his anger...
Collapse
)
Want to buy this issue? Well, if you want a digital copy, then you're out of luck. While DC's digital comics story at Comixology has been posting most of the DCAU comics,
their run of The Batman & Robin Adventures cuts off at the issue RIGHT BEFORE this one!
Argh!!! So keep your eye on Comixology, and maybe someday it'll be added. In the meantime, you totally should catch up on this great series, especially issues like
the greatest Ventriloquist and Scarface story of all time
, great slice-of-Gotham stories like
Dagger's Tale
, and
this Riddler/Batgirl story
, where Templeton proves his proficiency with neglected DCAU villains by writing one of the very best takes on the Riddler. Good stuff, all!