Art by Ron Wagner from The Book of Fate #4



Welcome to
about_faces: a fanblog dedicated to discussion and celebration of Batman's fallen ally and second-greatest foe, Harvey Dent, AKA Two-Face!

Here you'll find in-depth reviews, analysis, and critiques of Two-Face appearances both old and new, from feature roles to silly cameos, as well as essays, news, interviews, fan-art, fanfic, and miscellaneous geekery! In addition to Two-Face, this blog's secondary mission is celebration of classic Batman comics and the villains in general, as they are some of the greatest characters ever created in any medium! Well, except for Hush, because screw Hush. ;)

For full information--including disclaimers about scan usage--please read my User Info. If you have any questions, comments, concerns, complaints, requests, or whatever, please feel free to leave me a comment wherever or send me a Private Message! Comments in general are highly encouraged, as is discussion, ranting, etc.

Complete Table of Contents, Greatest Hits, and Entire Two-Face Comic Appearance Chronology coming soon!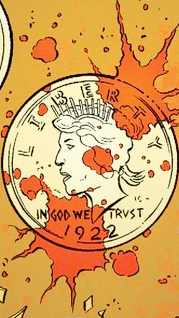 Right
off the bat
upfront, I'll say this much for Harvey Dent's new origin
The Big Burn
from
Batman and RobinTwo-Face
#24-28: it sure as hell is not what I had expected. Even as I was reading it and kept thinking that I knew where it was going, the damn story kept subverting my expectations and surprising me. Which, as it turns out, was probably by design.
Batman and Robin
writer Peter J. Tomasi made the unusual choice to reveal Harvey's new backstory through flashbacks that run backwards scene by scene, ala Christopher Nolan's arguably best movie,
Memento
. As such, the first issue showed how Harvey got scarred and gave some clues about what led to that moment, and then the next issue showed what happened right BEFORE the previous scene, with information that fleshed out what we'd already learned. In this way, Tomasi was able to set up expectations and toy with the readers' assumptions.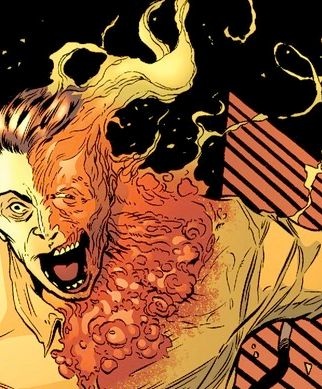 Frankly, I resented this kind of open manipulation. At least in
Memento
, it served a very specific purpose that was directly relevant to the main character's affliction. Here, it serves only to screw with the reader. I'm not saying that this choice wasn't effective on a certain level, as it kept me on my toes and I was genuinely surprised a couple times there. I suppose that garnering an emotional response should be the basic goal of every storyteller, but I can't shake the suspicion that those reactions were empty, and that there was no depth behind the twists. A twist for twist's sake is one of the cheapest forms of writing, with little more worth than a "BOO!" scare in a horror movie. 
Thus, at the risk of betraying the integrity of Tomasi's story, I want to review this one a little differently. Rather than examine the origin as presented, via backwards flashbacks in between the modern day stuff, I'm going to do like I did with
my review of Two-Face: Year One
and examine the origin's events in chronological order.

You're going to begin at the beginning? How pedestrian!
This is
not
the way that Tomasi intended you to read this story, and the truth is that, yes, it's more emotionally effective to read it in context. However, the real test of this origin's worth is if it can still hold up when read chronologically, without any of the twists and misdirects. My goal is to examine how TBB works as a character piece for Harvey Dent and as an origin for Two-Face (NOT as a story as a whole), and if it doesn't hold up when told as a linear narrative, then it's a failure. So let's tear into it together, shall we? 
Note: All that said, if you are able to read
The Big Burn
yourself, I
highly recommend that you do so first
. Just
start here
and read on. Seriously. It's worth reading for much the same reasons that Tomasi's
Nightwing: The Great Leap
is recommended: it's flawed as hell but filled with so much great stuff for Two-Face fans that I'm tempted to put it high on my list of recommended stories despite some huge reservations. Don't just rely on my reviews here if you can help it, as I'm going to tear this story apart and piece in back together in a way that will fundamentally alter the intended reading experience. Again, I'm reviewing the ORIGIN more than the STORY, so please try to approach this review with that in mind as much as possible.
(
I believe everyone deserves a fair trial...
Collapse
)
This concludes the first half of my
Big Burn
review, and the look at Harvey's new origin. Keep in mind that there are one or two important wrinkles to this which we won't learn until the modern-day plot, but I'll save that for the second half. For now, I think we already have enough to make an assessment about whether or not this new backstory works.
Personally, I think it all serves as more evidence that Tomasi is greatly influenced by
The Dark Knight
. Just as with Christopher Nolan's film,
The Big Burn's
origin is a lousy story for Two-Face while also being a rather powerful one for Harvey Dent.
Next time: Part 2 of my
Big Burn
review, wherein Harvey confronts Erin, Erin confronts Bruce Wayne, everyone confronts the mob, and it all ends with a stunning one-two punch that I can't even begin to describe here but just trust me on this OMG holy crap.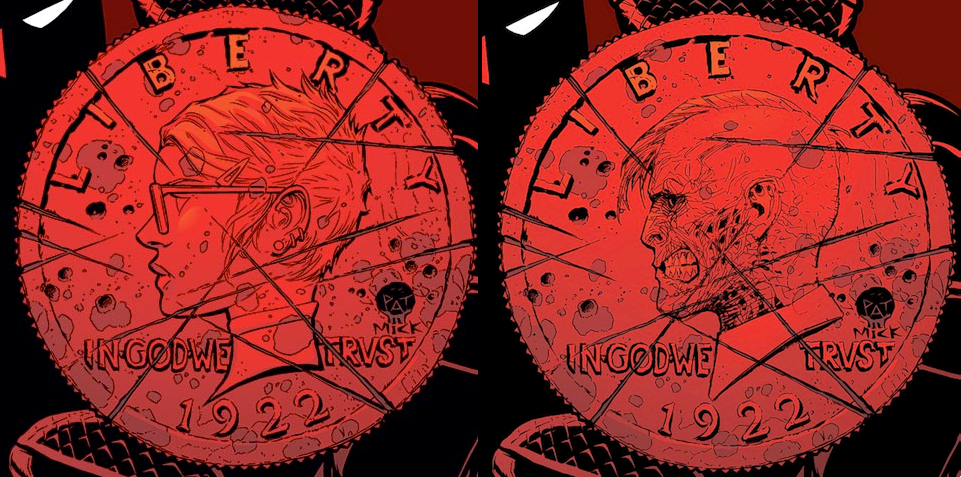 Just replace her with Harvey, no one will know the difference.
I'm still reeling from the finale of
The Big Burn
, the current storyline in
Batman and Robin Two-Face
#24-28 which serves as Harvey Dent's new origin and first major storyline in the DCnU continuity (the less said about
whatever the fuck Tony Daniel was trying to do
, the better).
The short, spoiler-free version is that it was a surprisingly different take that I mostly found very interesting, occasionally wonderful, and sometimes frustrating and even upsetting. I've been drafting up reviews all week in preparation for the finale, and now that it's out, I fear that all my plans and criticisms have been shaken to their very core. I'm going to need another week or three to write up the reviews.
And yet, even after all's said and done, and I can't help but wonder what the original plans were for
The Big Burn
. Because there's one thing of which I'm certain, and it's that this isn't the story we were supposed to have gotten, the story that writer Peter J. Tomasi originally intended to tell.
At this point, I'm convinced that
The Big Burn
was originally supposed to go very differently, and that it was drastically changed at the last minute for reasons we can only speculate. The prospect of Harvey getting a rebooted origin for the Ne2 52 was stressful enough in the first place (look at what the hell they've done to Penguin, Mad Hatter, Scarecrow, Mister Freeze, Clayface, and the Joker so far), but it's mind-boggling to consider that Harvey's new history is something that was sabotaged and then Frankensteined back together from the scraps of the original plans.
Bizarrely, this whole mystery seems to be centered around the appearance (and then disappearance) of Carrie Kelley: the Robin from Frank Miller's The Dark Knight Returns who had been introduced into mainstream DCnU back in April 2013. There had been big plans for Carrie Kelley, whose origin was to be revealed in
The Big Burn
and tied to Harvey Dent's own origin in some way. She even appeared on the covers as they were originally solicited, but when the actual issues came out, she'd been scrubbed and replaced entirely.

Just replace her with Harvey, no one will know the difference.
So before we delve into
The Big Burn
as it is, please join me in retracing the past year of hints and foreshadowing to try and determine that
The Big Burn
was originally supposed to be, and how much has potentially affected this new version of Harvey Dent that we're stuck with, for good or ill.
(
Whatever Happened to the Girl Wonder of Tomorrow?
Collapse
)
And for poor, ever-misused Harvey Dent, this is yet another case to be filed away under "Stories That Never Were," with the character, as always, at the mercy of capricious, fickle fate in the form of DC Comics' writers and editors.
Coming up next, I shall be splitting my review of
The Big Burn
(which I'm going to finish as soon as possible, because OH MY GOD WHAT) into two parts, separating them into flashback and modern-day storylines. What's more, I'm going to do like I did with
my review of Two-Face: Year One
and edit the flashbacks to review them chronologically rather than in the backwards,
Memento
-esque way they were originally written and published. This is not the way that Mr. Tomasi intended them to be read, but I'm mainly interested in examining what this new origin means for Harvey Dent and to see if it holds any water, so I hope that I may be forgiven for any creative critical liberties I take here.
See you folks whenever the hell I manage to get both reviews finished! And from there, I promise to finally get back to work on the reviews for
The Long Halloween!
In the last post
, I examined the pre-
Long Halloween
comics of Jeph Loeb and Tim Sale, glancing at their little-appreciated oddball gem
Challengers of the Unknown Must Die!
followed by
Fears
(aka
Choices
) and
Madness
, their first two Halloween specials for
Legends of the Dark Knight.
With this second part and conclusion of my overlong prelude to TLH, I'll not only look at the final part of their
Haunted Knight
trilogy, but also their first--though most assuredly not their final--foray into Marvel Comics, and while it's technically not a Batman story, it's still TOTALLY a Batman story in all the ways that count when it comes to Loeb and Sale's Bat-tales. I would go so far as to call it the "lost chapter" in Loeb and Sale's Batman saga, just in terms of themes and character if not actual plot details.
(
GHOSTS and VICTIMS behind the cut
Collapse
)
Whew, that was one long-ass introduction, wasn't it? It's crazy to imagine that my actual review of TLH will end up being much, much longer, so I'm not even more excited to have the help of everyone who will be joining me for guest reviews! It took me over a month to write this and it'll take me even longer to crank out those TLH reviews, so in the meantime, I wholeheartedly suggest that everyone follow-up this prologue with a movie marathon of all the films that Loeb will use as the basis for his next work and beyond!
Before we examine
Batman: The Long Halloween
, everyone here should see (or have already seen) the following films:
1.)
The Godfather
trilogy. I just rewatched the first one recently and took many screencaps, because oh my god, Loeb lifted SO much. I will soon be rewatching Part II and will then subject myself to the infamous Part III for the first time.
2.)
Silence of the Lambs
, mainly for all of the Calendar Man stuff. Also worth watching:
Manhunter
, for all the reasons listed above, and also because--again--it's one of my very favorite movies.
3.)
The Long Good Friday
, a classic 1980 British gangster film starring Bob Hoskins (in his breakout role) and Helen Mirren. From what I've found, no place online has caught on to the idea that Loeb got the title of TLH from TLGF, but considering that they're both centered on mob bosses who lose everything over the course of a holiday to a new wave of criminals they don't understand, I suspect that a connection between the two is pretty fucking likely. Warning: this film is filled with incredibly thick London accents, so watching with subtitles is recommended, plus
it's worth refreshing your memory on certain phrases from British slang.
4.)
Presumed Innocent
, the legal thriller starring Harrison Ford and Raul Julia. The twist ending of TLH is entirely ripped off from this movie, right down to the setting. If you don't know the (stupid, senseless) twist from TLH and don't want to be spoiled, then DON'T watch
Presumed Innocent.
As with
Red Dragon
vs.
Manhunter
, this is another case where Loeb drew "inspiration" from the movie and not its original book, so as such, I think it's simply an interesting coincidence that Loeb based a crucial aspect on Harvey Dent's storyline on a movie that came from a book that had this cover on the first edition: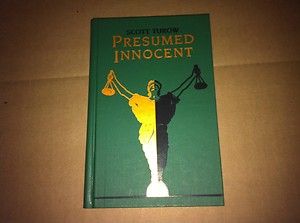 So that's it for the movie recommendations. Also, if you haven't read them yet, check out
Batman: Year One
by Frank Miller and David Mazzucchelli, as well as "Eye of the Beholder" from
Batman Annual
#14 by Andrew Helfer and Chris Sprouce. Loeb lifts stuff from both of these comics constantly, using them as the foundation for his work both here and in his Batman stories before and after TLH.
But of course, I would expect that most everyone here has read both of those comics already, as they are must-reads 'round these parts. When I get a chance, I'm going to give a full overhaul to my review of EotB with better scans, better commentary, and even a few great new finds I've discovered recently! I think I will need to reexamine my favorite comic of all time before revisiting how Loeb built upon its foundation in several respects.
If anyone else knows of films or books that TLH references, lifted from, and/or outright ripped-off, let me know! In the meantime, happy watching, and hopefully I'll see you with a review of TLH #1 sometime before next Halloween!
Batman: The Long Halloween
that we'll be doing here over the next year or so, I'd wanted to give a quick overview of Jeph Loeb and Tim Sale's earlier work. I primarily wanted to focus on their
Haunted Knight
trilogy of Halloween specials from
Legends of the Dark Knight
, as they were all direct precursors to TLH, while also giving nods to a couple other, more obscure collaborations between Loeb and Sale.
So I reread these stories, and I dug around and found some interesting interviews with Loeb which shed some light on his creative process, and thus, in typical long-winded Hefner fashion, these "nods" and "quick overviews" exploded into an incredibly long prologue that deserved to be its own post. I think it's important to look at all five of these early collaborations between Loeb and Sale, with a special focus on Loeb himself and how he writes all these stories with similar (or repeating) themes, motifs, quirks, and bad habits, especially his tendency to reference or outright steal scenes from movies. These traits are all present within TLH, but I believe that they're less obvious when that book is read on its own, whereas they become glaring when compared with his earlier stuff which lay the foundation for TLH is more ways than I can count.
So join me as we examine not only the early collaborations between Loeb and Sale, but also look at Loeb's career and creative process from its humble beginnings way back, even earlier than you expect. Be warned: this post is a bit stream-of-consciousness, but I always manage to get back to the point. Well, almost always.
(
A very long, sometimes-meandering review of five books with many, many, many pictures behind the cut!
Collapse
)
From here, I was planning to mention some of the actual differences between these stories before delving into their third and final Halloween one-shot, but I'm afraid I must abruptly stop here. Why? Because my full post was too big for LJ to post! Geez, that's never happened to me before! Well, considering how lengthy this one was already, I'll just let this one be for the next day or two and post the rest of the prologue after we've had time to digest this along with our Thanksgiving leftovers.
EDIT: PART 2 IS UP!
While working on my first review for the epic review of
Batman: The Long Halloween
and writing about my love/hate relationship with Loeb and Sale's most famous work,
lego_joker
proposed that I review each of the thirteen issues separately with a different special guest reviewer per issue in the vein of my epic tag-team reviews with Henchgirl
here
and
here
. Well, I'm finally (though very slowly) working on my review of TLH, and I've noticed a few of you have been showing interest in doing this project, so let's start up a tentative sign-up sheet for which issues anyone would like to cover!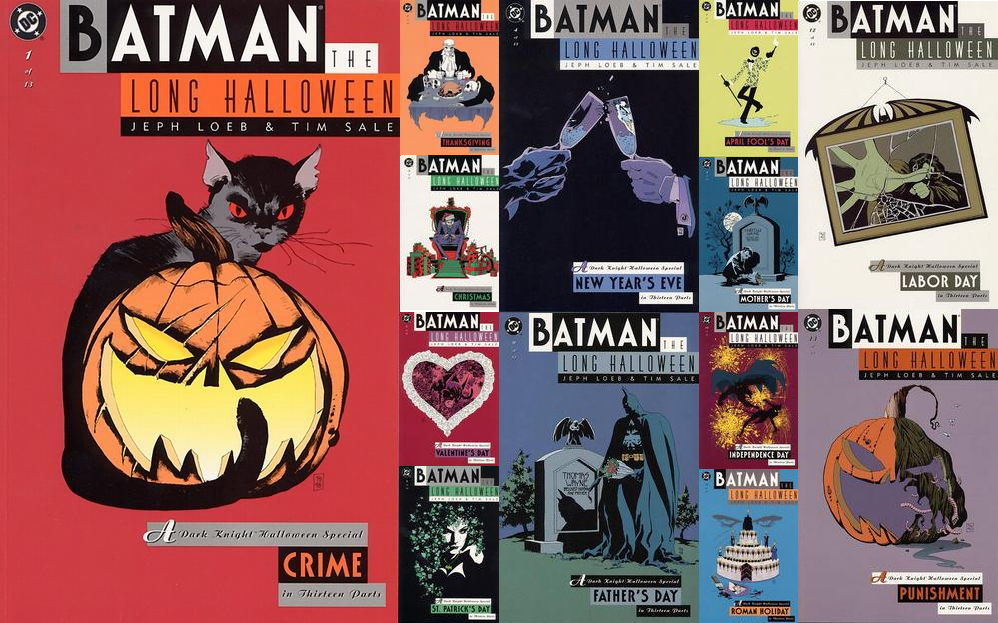 Image source: Allyson's Attic
Now, some have already been claimed.
surrealname
has called the Christmas Joker issue, which promises to be a very entertaining and profanity-laden review.
crows_talon
, I know you expressed interest in the Scarecrow Mother's Day issue, but
captaintwinings
already called that one, so maybe you could do the Scarecrow's other big appearance in the Independence Day issue?
As for Henchgirl herself, she's on the fence about which issue she'd want to review, or if she's up to reviewing it at all, as she suffers from the same kind of aggressive apathy towards TLH that kept me from reviewing it for years. I'm thinking that maybe the Valentine's Day issue would be great for her, so unless anyone else really wants that one, let's keep that open for her for the time being. And if she does decide that she wants to do another one, she gets top priority. Finally, the first and last issues (the actual Halloween ones) are also off-limits, as I want to solo those myself.
All that said, the following issues are therefore open: #2 (Thanksgiving), #4 (New Year's Day), #6 (St. Patrick's Day), #7 (April Fool's Day), #9 (Father's Day), #10 (Independence Day), #11 (Roman Holiday), and #12 (Labor Day). Eight issues to choose amongst yourselves! So yeah, if you're interested in co-reviewing an issue with me, feel free to hash out who would like to do what! I may also try to reach out to a couple cool people outside of this blog to see if they'd be interested as well, and if so, I'll update this accordingly!
How will these co-reviews work? Well, I was thinking of writing up a draft with my thoughts, then I'd pass it along to you to add your own, and then you'd pass it back to me and we'd smooth it out together. As such, you should all remember that it takes me a very, very long time to write reviews these days, so not only it will be a while before I finish my first review, but it could also take me months--maybe even all year!--to finish my first draft reviews of the rest. If you're so inclined, you may want to start drafting any initial thoughts you have now and keep them on ice until I finally get my own written up. This is going to be a review for the long-haul, but I'm certainly up for it if you are!
At one point over the few years that I've been putting off reviewing
Batman: Mask of the Phantasm!
I read about this years and years ago and could find no information online to verify or debunk this, so I was hesitant to write about something based on my own fuzzy recollections. Regardless, I've been dying to know what such a story might have been like, and how it might have affected Two-Face's popularity as well as future stories in the DCAU. I figured that, if Harvey was a central enough figure, it might have followed his character development after the events of
Two-Face
Part II
in some capacity, probably revolving around Batman trying once again to save his friend. If
Mask of the Phantasm
delved into Bruce's past, perhaps the Two-Face movie would have done the same, possibly giving some much-needed backstory to Harvey and Bruce's friendship. And if it had been as good as MotP, then that means we could have gotten the Two-Face epic that the character still deserves. So yeah, it almost
hurt
to speculate on what could have been if only it had been made.
Well, as it turns out, the Two-Face story WAS made, just not for a movie or even in the animated series! I was skimming through an old issue of
Wizard
magazine from November 1995 whilst looking for a rare ad for the third Loeb/Sale Halloween special, when lo and behold, look what I discovered in the listings for new issues coming out that month! I've highlighted the pertinent bit, but I'm including the full page for the nostalgia factor, as well as a reminder of
Wizard's
somewhat douchebro sense of humor.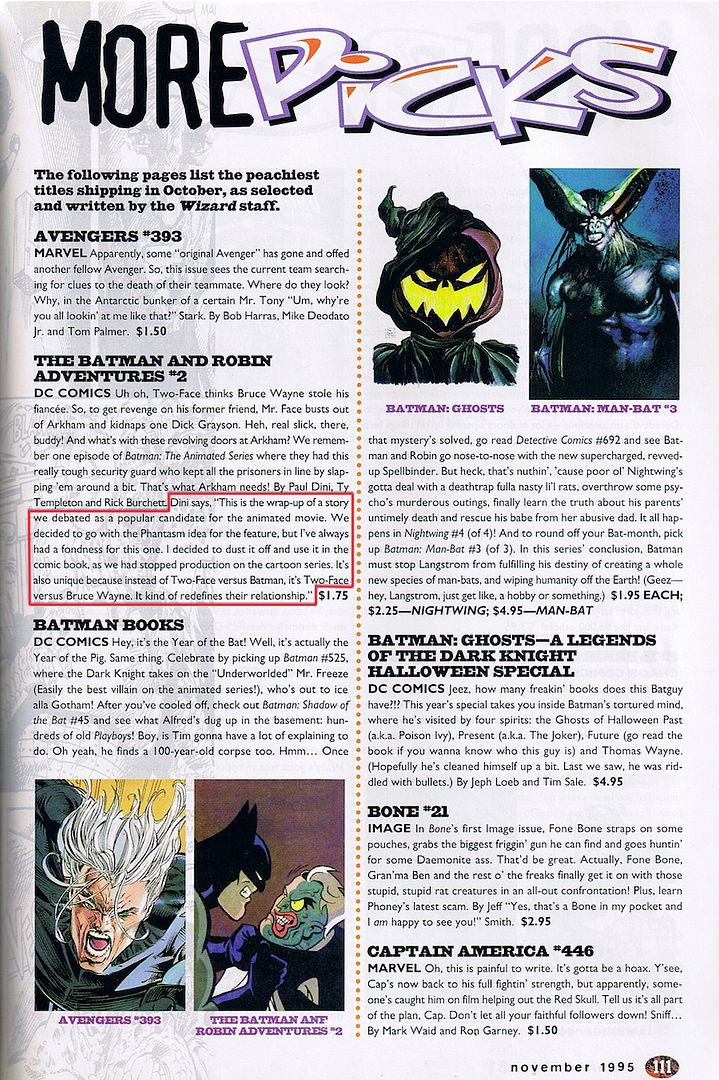 So yes, as it turns out, the potential Two-Face movie was
repurposed for comics as "Two Timer" in The Batman and Robin Adventures #1 and 2!
Y'know, I was *wondering* why that was one of the only multi-chapter DCAU Batman comics rather than a one-shot like all of the others! Wow, just imagine what it would have been like to have seen
Two Timer
as an animated film with Richard Moll performing Harvey in perhaps the most heartbreaking and tragic Two-Face tale from the whole DCAU!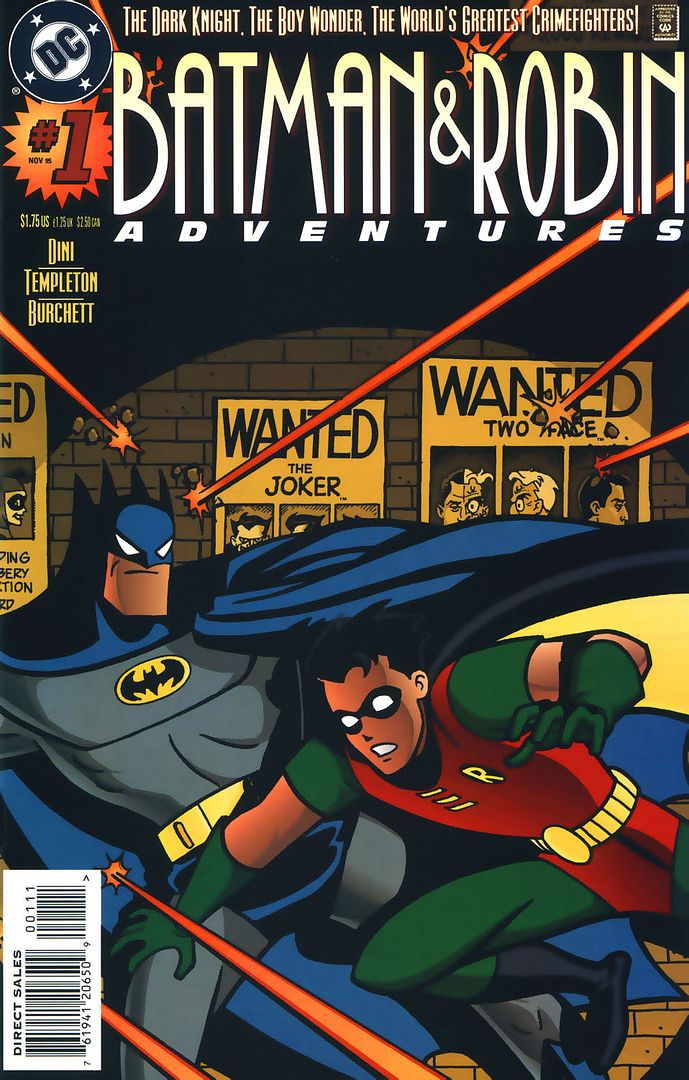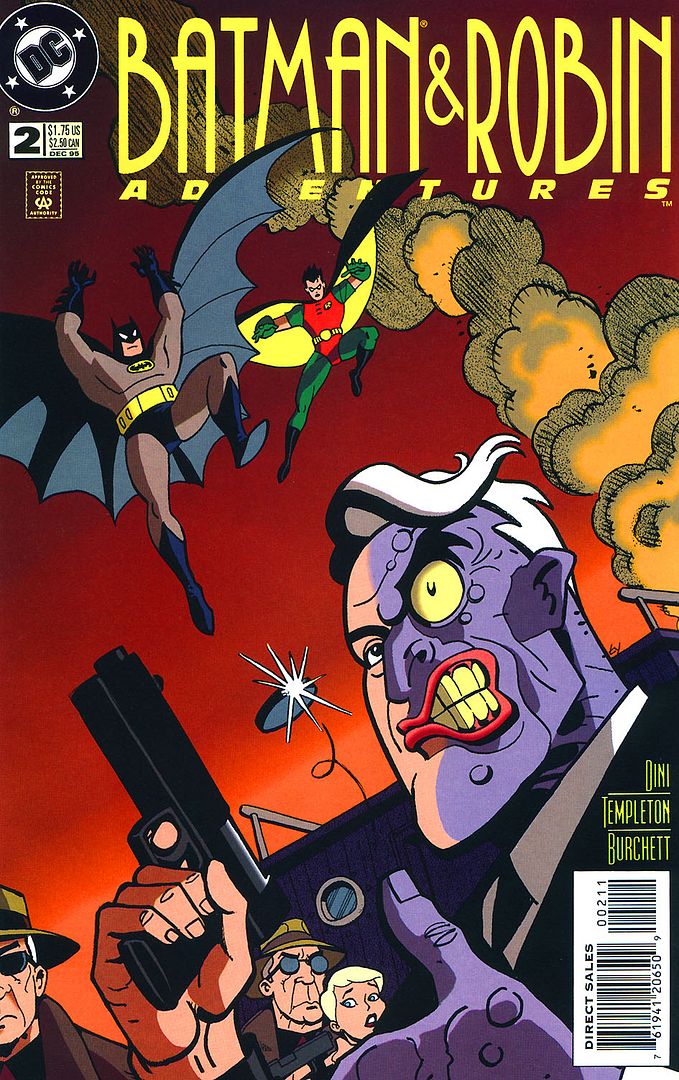 Well, ultimately, I think everything worked out for the best. While I objectively think
Two Timer
is an excellent story, it's not one of my favorites. I've gone into details over at my review, but the short version is that I think it's too depressing, too hopeless, too much of an emotional "rocks fall, everyone dies" story where it just sucks for all involved. I especially dislike how it dashes all of the bittersweet, poignant hope explored in the episode
Second Chance
by destroying Harvey's friendship with Bruce as well as with Grace: "There's nothing left to save." Still, maybe it would have made more fans appreciative of the walking tragedy that is Two-Face who always seemed/seems to get the short end of the sympathy stick compared to Mister Freeze (see the "Batman Books" solicit in the Wizard page). That would have been nice.
All in all, though, things worked out for the best.
Mask of the Phantasm
was not just the better story, but it's also one of the best Batman stories ever created in any medium. While it would have amazing to heard Moll and Mark Hamill's performances in
Two Timer
, at least the comic version gave us some absolutely gorgeous artwork by Ty Templeton and Rick Burchett, some of the best art to appear in any of the DCAU Batman comics. I'd argue that it's right up there with Bruce Timm in
Mad Love.
And while
Two Timer
was a major downer, at least it led to Templeton writing
this
and two other absolutely fantastic Two-Face stories, three of the all-time greatest for the character. The only downside to this is that far too few people have read these stories. Man, I have got to get back to my DCAU reviews one of these days.
Back when I was first planning out my series of Two-Face Stories That Never Were, one of the big rumors I wanted to explore was one that I could have *sworn* I'd read somewhere but couldn't back up: namely, that Paul Dini and company were planning on making an animated Batman movie featuring Two-Face, but that idea was scrapped in favor of
Batman and Robin Two-Face
#24, featuring our first look at Two-Face's new origin in the DCnU. I think I will hold off on doing a full review/analysis until it's concluded five months from now, where can I properly examine it as a whole, but there's some stuff that I want to talk about right away.
My initial, overall thoughts? It's... interesting. Not bad, really, and certainly much better than most of the awful new villain origins. It's only the first issue, and it's clear that there's more backstory details to be revealed, but for now, count my interested... with some reservations, especially where poor Gilda is concerned.
UPDATE: You can see the origin pages for yourself over here at my Tumblr!
(
WARNING: HERE BE ***SPOILERS*** FROM HERE ON OUT.
Collapse
)
So after a disappointing start with last month's "A Tale of Two Faces," it looks like "The Big Burn" is shaping up to be an interesting new origin with potential for greatness. Again, I won't give it the full review treatment until it's wrapped up, but I may post thoughts like this here every now and then. Mainly, I'll be posting scans and scattered thoughts about stuff over at
my Tumblr
, so keep up over there for all the latest rants and ramblings!
The first part of "The Big Burn" came out today in
Batman and Robin
, which may or may include a new origin), but also served as a direct tie-in to DC's latest massive crossover event,
Forever Evil
, where the villains of the DCU take center stage. That's right, it's a double dose of Two-Face! But is that a good thing or a bad thing? Find out with me, and let's pass judgment together!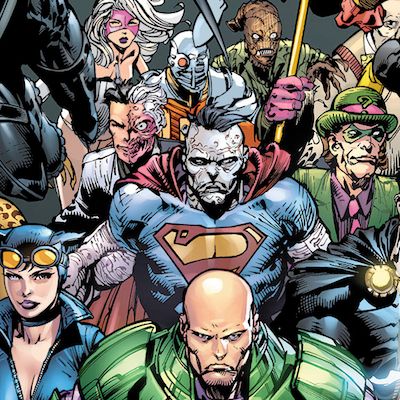 (
Gotham needs Harvey Dent behind the cut!
Collapse
)
And thus, on that note, the stage is set for
The Big Burn, the five-part storyline that will begin in the next issue of Batman and Robin Two-Face
, and which see Batman "unraveling the mysterious connections between Harvey Dent's life and the origin of Carrie Kelley," the Frank Miller transplant who may or may not become the next Robin. If she does, then at least this will be a return to
the grand tradition of Harvey being the villain to break in the new sidekicks. Sometimes literally.
That will be nice, even if this issue doesn't give me much hope that Tomasi's Two-Face will have much to offer.
If you would like to buy these issues for yourself and get in on this current event, both
Forever Evil #1
and
the Two-Face solo issue
are available via Comixology for $3.99 and $2.99, respectively. Otherwise, you can track them down at your local comic shop, which may still have a few copies left of
the 3D Two-Face cover
, if that's your thing. Fun fact:
the 3D covers have been known to melt if left in your car
, so for extra fun, everyone should try to leave their Two-Face issue half in sun, half in shade! Harvey would want it that way.
*That said, every time I see fan art of the Bat-Family, I keep hoping that someday, someone will put Harvey in there. After all, they put Jason Todd as the Red Hood in there, and Harvey was one of Batman's very first allies. Besides, everyone knows that Two-Face is the Robins' wacky uncle. I'm just saying, if
some people can see Lex Luthor as being part of the Superman Family
, I'd damn well hope to see Harvey be the black sheep of the Bat-Family as well as a member of the Rogues Gallery.
This week, Harvey Dent was featured in a one-shot story that not only set the stage for "The Big Burn" (his upcoming new storyline in
Forever Evil Two-Face story!
I have friends-locked my newest post from last night, just as a (possibly already too late) precautionary measure. If you're not LJ friends with me and you want to read it, now's the time to stop lurking and friend me (and create an LJ account to do so, if necessary). If you don't feel up for that, then don't worry, I'll probably be back sometime next week with a new review of Peter Tomasi's