Hefner's Note: In the months since I originally found and posted this story, I've come to feel that this one goes on my top ten Two-Face stories of all time. Maybe that's just because of how the character is used in a refreshing and unusual manner.
Y'know, back when I was but a wee fanboy, I actually used to wonder if there was any feasible way the JLA could go up against Two-Face. It seems far-fetched to say the least, but I suppose the Joker's done it several times. So imagine my delight when, a couple months ago, I discovered this story existed!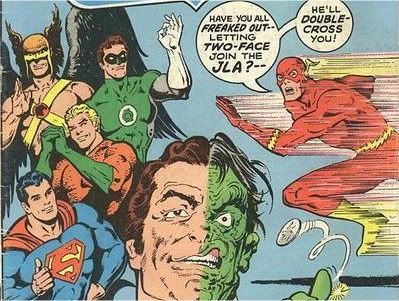 In this two-part JLA story from 1975, our favorite bisected anti-villain teams up with the JLA to save the world from aliens inhabiting statues of Julius Caesar, Ben Franklin, and Napoleon! No, really.
(
Collapse
)
Some of the most interesting superhero stories occur when characters are taken out of their usual circles. Like, Ra's al Ghul being revealed as the big bad guy in a LEGION OF SUPERHEROES story! Or EMPEROR JOKER! It's a simple, engaging, and underused trope of comics. They're the kind of stories that require a bit of imagination and originality on the writer's part, which is probably why they're not done that often.
Me, I'd love to see more of characters like Two-Face being used outside of Gotham, pitted against characters who aren't part of the Bat-Family. We already got a taste of the possibilities between this and
the TEEN TITANS SPOTLIGHT issue where he faced off against Cyborg.
For one thing, I'm hoping that JMS actually does
the Two-Face/Hawk&Dove issue of THE BRAVE AND THE BOLD that he talked about back in May 2008.
That'd be a great start.