Let's go back to where it all started: August 1942, with DETECTIVE COMICS #66.
While Bob Kane gets too much credit for everything Batman, it seems that Two-Face was entirely his creation, taking the look from
this poster of Spencer Tracy's JEKYLL & HYDE film,
and giving him a coin-flipping gimmick
originated by George Raft in SCARFACE
. Bill Finger then ran with the idea, and the two introduced a startling new villain for Batman's Rogues Gallery: Two-Face, AKA Harvey... Kent?
Yes, as you might know, Harvey's original last name was Kent, presumably changed to Dent so as to avoid any connection with Superman. What's more, the first Two-Face story was a cliffhanger in a time when most superhero stories were standalone. What's more
more
, it actually ended up being a trilogy, with a distinct beginning, middle, and end of Harvey Kent's career as Two-Face!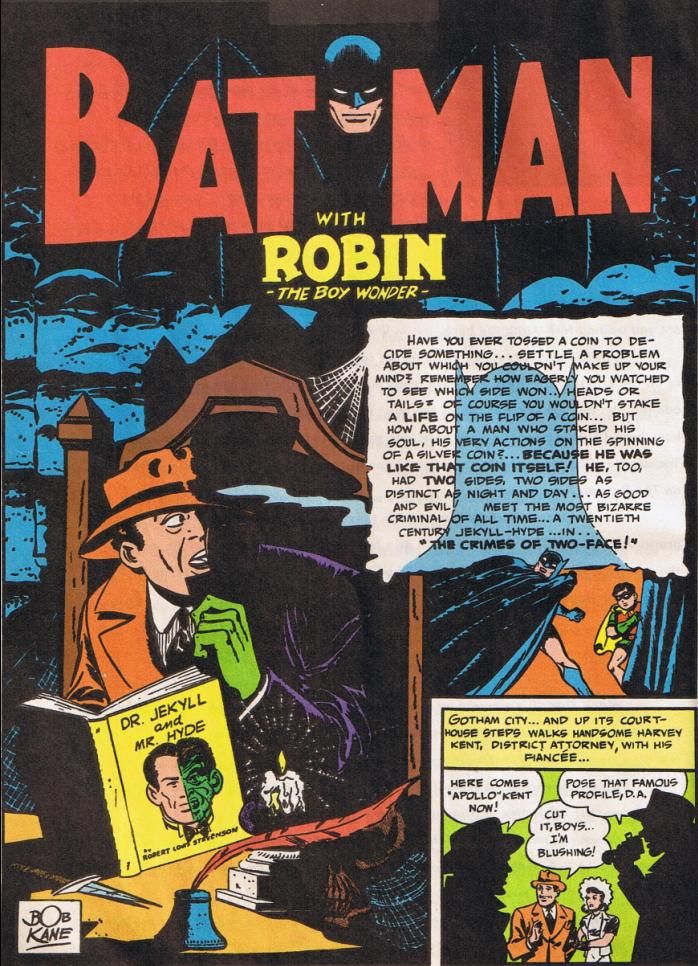 It's one of the earliest examples of a complete story arc told in multiple parts from the Golden Age, one that cemented Two-Face from the outset as one of Batman's greatest foes, not to mention his most tragic.
And I can pretty damn well guarantee you that the saga of Harvey Kent doesn't end the way you'd expect! As an epilogue, I've included a never-reprinted, little-known postscript to the life and career of Harvey Kent, the original Two-Face.
(
Collapse
)
On a final note: it's good to be back. I finally have some free time again to dick around on frivolous matters, which means more
about_faces
in the near future! Hope you enjoy it, and as always, I highly encourage all comments, feedback, suggestions, and ideas! If you have a post you'd like to do, or fic to recommend, or anything like that, let me know via the comments or a DM!