So seriously, what the
hell
has DC been doing with Two-Face for the past year and a half?
I ask because I wanted to review the final part of the first-ever Two-Face solo story wrapped up in
Batman: Streets of Gotham
, which came out today. But I realized that such a review was impossible without looking into the events that brought the character to this point, as written by Tony Daniel, Judd Winick, and Marc Andreyko, neither of whom seemed to read the other's stories and utterly ignored continuity when it came to Two-Face.
Has anyone else noticed this? Has anyone else been confused?
Let's take a blow-by-blow look at Two-Face over the past year and a half, and you let me know if this makes any sense, or if I'm missing out on some crucial detail somewhere along the way. Please, seriously, help me out here. I feel like no one else is even noticing these glaring inconsistencies.
And while I'm at it, I'd like to rant a bit about Andreyko's
Manhunter
co-feature from
Streets of Gotham
. Hope you don't mind.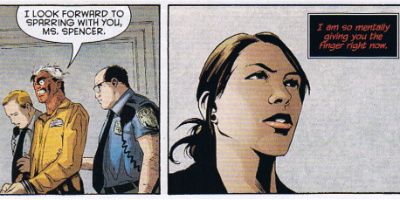 (
Collapse
)
...
What?!
Is this all due to some editorial clusterfuck, ala
Countdown
,
Death of the New Gods
, and
Final Crisis
all contradicting one another in various ways? And unlike that clusterfuck, no one else seems to be noticing THIS clusterfuck!
And then there's the actual Two-Face solo story by Ivan Brandon, the one that just today wrapped up in
Streets of Gotham
. That one seems to be another clusterfuck for some reason, not to mention the story itself is frustrating in its own ways. But I'll address all that in my next post, when I tackle
Two-Face: The Long Way Down
heads-on. Hopefully no one else will post scans of it in the meantime.