Back when I posted
Two-Face: Year One
--which entirely cut out the character of Gilda from the origin--one commenter asked if any kind of wife/finance is really
needed
for Harvey.
Me, I'd argue that Gilda is a character who is absolutely essential to displaying the humanity and core tragedy of Harvey Dent. Unfortunately, she's made very few appearances in comics, which I think is a major reason why Two-Face is so often written as a one-note monster with a cheap gimmick.
That said, Gilda can be a problematic character. When she first appeared in
the original Harvey Kent trilogy way back in the 40's
, her character was mainly there to be the weeping, faithful, fragile love interest, the pure-hearted woman who could redeem Harvey through the sheer power of lurve.
Two-Face eventually returned, but Gilda did not. At least, not until 1980, after a thirty-six year absence, in the story I bring you today. In this overly-convoluted mystery entitled
Double Jeopardy/Twice Dies the Batman
, Gilda meets a new love interest with a shady past, and unwittingly becomes involved in a web of lies, murder, and revenge. Why can't there ever be webs of
nice
things, like puppies and pie?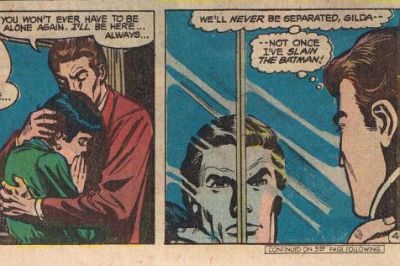 (
Collapse
)
In the near future, I'll post the one other story to actually make use of this refreshing new direction for Gilda before she's relegated back to her previous characterization... or worse, in the case of the story from which she's now, regrettably, most famous.