Just under the wire for TWOsday!
I wasn't sure I'd ever own a copy of this issue. As it featured the first appearance of Arkham Asylum, copies were out of my price range (unless I'm buying rare back issues for my girlfriend--because I'm clearly the most awesome boyfriend ever, zomg--my limit is five bucks), but I managed to find a ratty-ass copy that was good enough to read and scan. Huzzah!
I'm glad I did, because while the story is dated and rough, it was surprisingly ahead of its time with how sympathetically it treated Two-Face. Sure, he was sympathetic in his original appearance, but that was only up to the point that he was redeemed and had his face fixed. After it got rescarred again, his very few appearances between 1954 and 1971 treated him more like a tragic character who's now just a villain to be stopped, and all sympathy for him died long ago. It's how many
still
write him.
It's also how Denny O'Neil himself treated the character in his first Two-Face story,
Half a Life
. I should post that here, both the original version and the recent recoloring, just to compare. But today's post is O'Neil's *second* Two-Face story:
Threat of the Two-Headed Coin!
from
Batman
#258 (1974). And this time, O'Neil takes a slightly different approach with the character, one which undoubtedly influenced the writers on
Batman: The Animated Series
in how they handled villains.
That said, it's still very early Bronze Age, right down to the cracky intro image, where Harvey resembles Wile E. Coyote to an oblivious Dynamic Duo: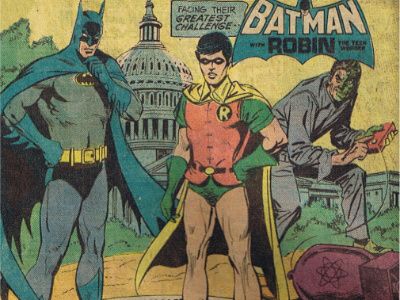 (
Collapse
)