Hey, it's been awhile since I posted another part of my series on all the Impostor Two-Faces, hasn't it? This next one is part of a larger story arc,
Nightwing: Year One
, which reunited the team of Chuck Dixon and Two-Face familiar Scott McDaniel.
Of course, it wouldn't be right to have a story about Dick Grayson in a formative period of transition without Harvey along to help! Unfortunately, the real Two-Face was unavailable, so instead, we have... Alfred?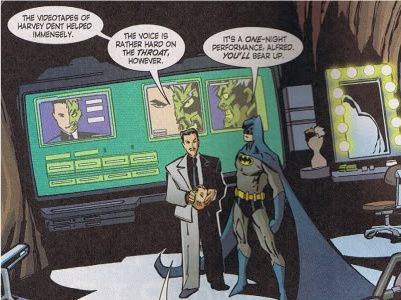 Be warned: scans are a bit smaller than I intended. It doesn't help that the actual letterer seems to be writing smaller than usual. But I'm too lazy to upload and recrop the images again, especially for this trifle of an appearance. But for the sake of completion, here it is, hopefully presented in a way that won't strain your eyes too much.
(
Collapse
)
Since I may not have done this story justice by posting a middling subplot out of context, you can read the full thing
in the complete Nightwing: Year One collection
, which is... out of print? Jesus, DC, what do you have against Chuck Dixon that most of his works are out of print?!