I feel bad for plowing ahead and ignoring the third Impostor, poor George Blake. Maybe it's because Blake's story is the only one that's been reprinted (in an affordable edition, anyway), but it might also have to do with the fact that "The Double Crimes of Two-Face" is kind of... well... stupid.
But historically, it's a notable story for those geeks who care about such things (hi guyz!). This story feels largely like a retread of the first Impostor story with Wilkins the Butler, with the added similarity to Impostor #2 Paul Sloane by giving Blake a background in theatre. At the same time, it's on the cusp of the Silver Age, which means outlandish camp, paper-thin premises, and crack galore. As such, I think Blake's story influenced the actual return of Two-Face, when Dent got rescarred and went on a ridiculous spree right out of the Adam West TV show.
So yeah, this story ain't good. But it's plenty of fun, and the cover is also one of the greatest Two-Face covers of all time. It's also, I might add, a clue.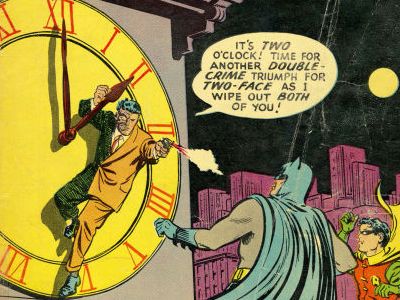 (
Collapse
)