So I've been seeing these die-cast lead figurines of DC and Marvel characters for the past couple of years, which are apparently imported from either the UK or New Zealand. Have you guys seen these as well? This is the Harvey figure:
Many more pictures of it and other DC figures can be found
at this Flickr account
. They're all rather neat, especially the Riddler and Scarecrow figures. What I like most about the Two-Face one is how it makes the interesting choice to put the tacky suit on the
good
side, letting the horrific scarring play off of a rather nice light gray suit. It's very much Two-Face as ganglord, the kind of guy who gives orders and passes judgment rather than getting his own hands dirty, if he can help it. So yeah, it's neat.
But what interested me way MORE is the booklet that came with the figurine, which included the origin and history of the character, three recommended stories, profiles on allies and enemies, and more.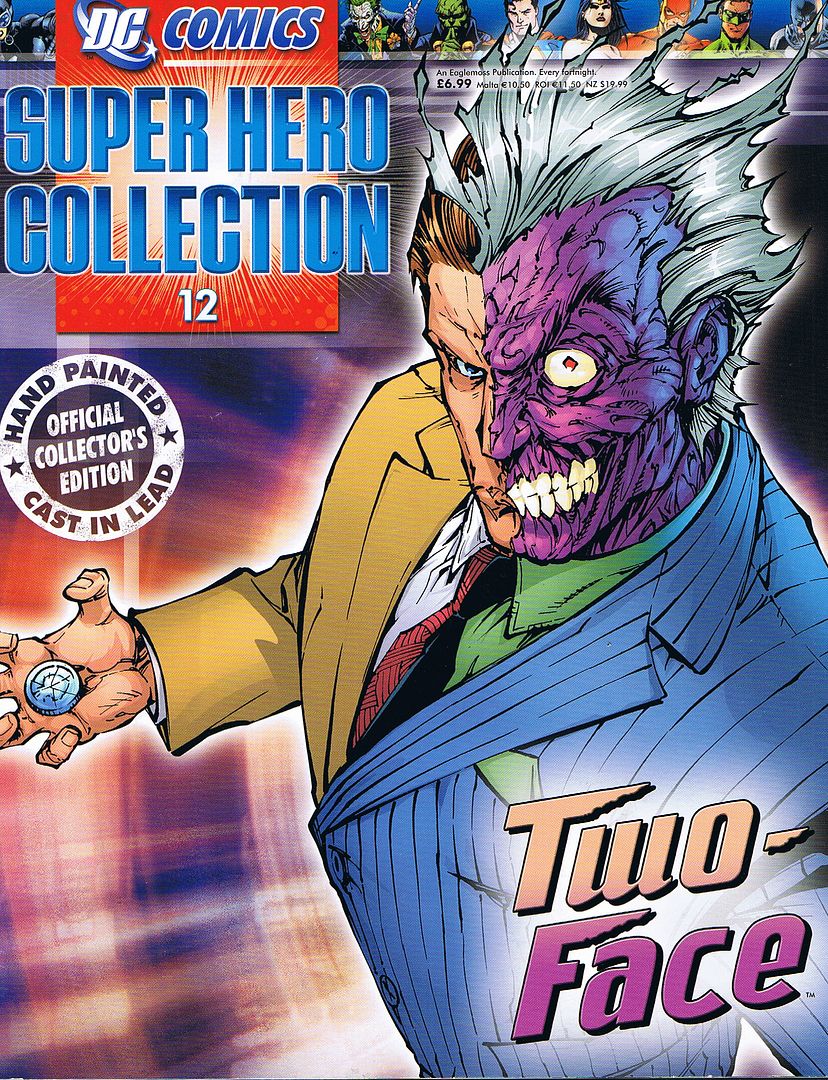 I was hesitant at first, fearing that it would be nothing more than one great big Jeph Loeb wankfest. And while it was a lot of that, it was also surprisingly comprehensive when it came to a post-Crisis history of the character! This is the only time I've ever seen anybody (in a professional publication, no less!) go into detail about Harvey's abuse, plus include the "contribution" of serial killer Dr. Rudolph Klemper to the unleashing of Two-Face. It's quite well-written and compiled, thanks to Jim McLauchlin, whom I believe was the same Jim McLauchlin who helped make
Wizard
magazine halfway readable back in the 90's. I keep forgetting if it was McLauchlin or Pat McCallum who made that mag great when it great.
That said, there are flaws. I know that some of you suggested the idea that
Eye of the Beholder
and
The Long Halloween
didn't have to negate each other, and could both count as canon. That's exactly what this does, and it actually kinda works...
until you get to the part where the twist ending absolutely makes NO FUCKING SENSE.
Don't take my word for it! Read it for yourself, both in the origin and in the last scan, which provides a synopsis for TLH specifically.
Warning: SPOILERS for
The Long Halloween
,
Dark Victory
,
Hush
, and
Face the Face
. Really, is there anyone reading this who HASN'T read those storylines? If not... well, you ain't missing much. There's a reason why I haven't reviewed them here yet, even though those are arguably the most high-profile Two-Face appearances to date.
(
Collapse
)
The rest of the booklet looks at profiles of allies and enemies (with Harvey, sometimes they're both), which was an assortment of choices that were alternately basic (Batman, Gordon, Gilda, Renee), knowledgeable (Paul Sloan), acceptable (Penguin? I guess) and bizarre (the Suicide Squad? Oh, Salvation Run, yeah, I guess that kinda doesn't make any sense at all?). After that, we get a history of Gotham's organized crime, from Falcone up through to Black Mask, which of course completely goes for the skull-face Mask characterization. Whatever. Why do I care? I'm really wondering. Eh.
I know my tone was largely critical and exasperated, but in all honestly, this was a pretty great history of the character. I'd be very happy if this were somebody's first exposure to Two-Face, rather than just any one story. It's certainly a fair sight better than his pages on Wikipedia or ComicVine,
although I'm certainly doing my part on that count
.