Someone (forgive me for forgetting who or where, but the baby stole my brain... was it
yaseen101
, maybe?) was wondering if there has ever been a female Two-Face.
Appropriately enough, there have actually been
two
! Naturally, they both appeared in Elseworlds stories, the first in 1998 and the second in 1999, so I guess there was just something in the air at that point. The first, Jenna Clark, is an oddball of a half-baked character from Mike W. Barr's
Batman: Dark Knight Dynasty
, whereas the second, Darcy Dent, is a magnificent trainwreck courtesy of Moench and Jim Balent in
Catwoman: Guardian of Gotham
.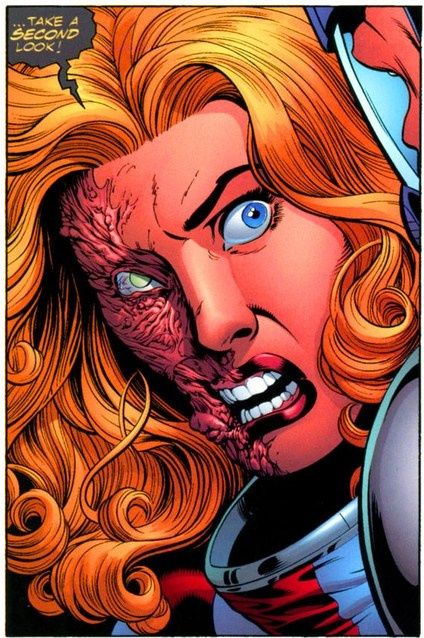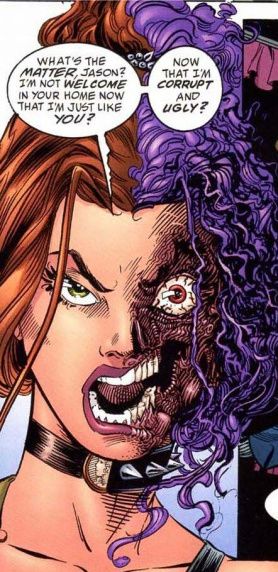 (
Collapse
)
Oh, Moench. Oh, Balent. Oh,
god
. It's definitely in keeping with their work on
Catwoman
, so I can't fault them for playing to their strengths. Nonetheless, I just find Balent's idea of sexiness to be so...
obvious
. It's about as clever as making your female Two-Face a smooshed-together version of both Sugar and Spice from
Batman Forever
. Ultimately, when it comes to a female Two-Face who's both awesome
and
hot,
I'd prefer the likes of Meagan Marie any day.
Funny how a cosplayer did it better than any actual comic writers to date!