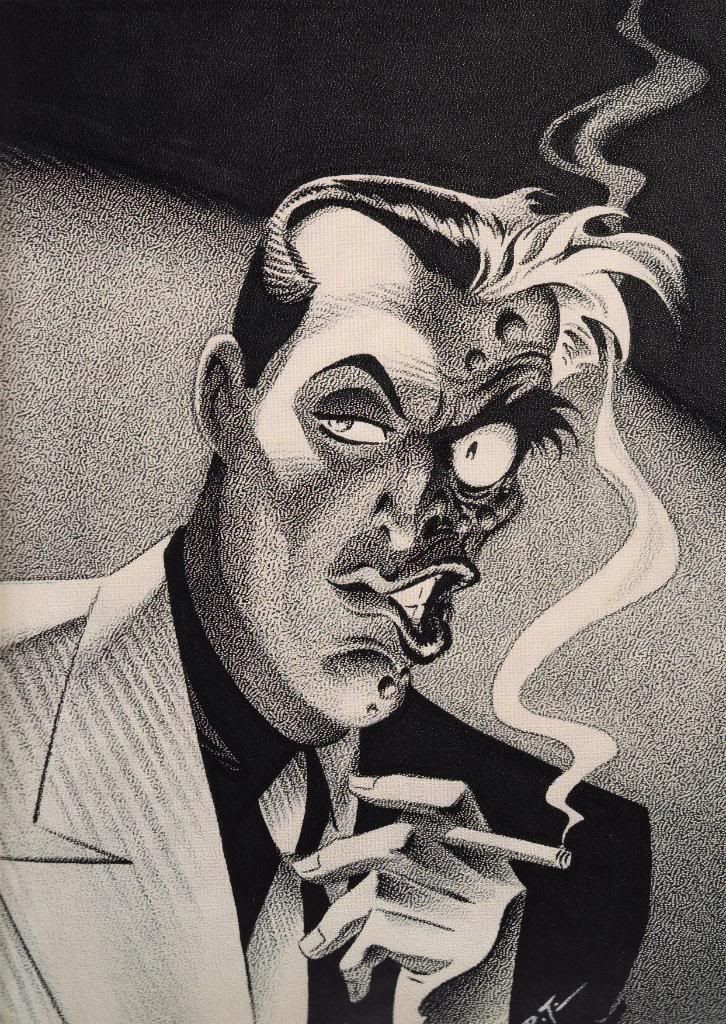 Honestly, I could devote a whole separate fanblog just for the Harvey Dent from the various DC Animated Universe properties*, from B:TAS all the way to today, as that version of the character still manages to endure in fandom.
At first, I thought about doing like I did with the
Who's Who
posts and just writing about EVERYTHING there is about Harvey over fourteen daily posts in an event which I was going to call
Two Weeks of Two-Face in the DCAU
. Of course, I soon realized that such a project would not only be overload for everyone involved (especially me!), but it also wouldn't do the character justice. And if anyone deserves justice, it's Harvey Dent. /I see what I did there!
For a whole generation, the DCAU Two-Face was the definitive version of the character. Sure, the Nolanverse owns the current generation, but B:TAS seems to still have a healthy following nonetheless. At the very least, I'm certain that the DCAU Two-Face will continue to be more popular and influential than, well,
any
version from the comics. I dare say that'd be true even if we lived in a better world where comics would be as popular and well-known as cartoons and movie (*weary sigh*). But even as a fan, I never gave much thought about just WHY this Two-Face was so great, much less the work that went into making him that way, until I discovered
the actual B:TAS writer's bible
on
World's Finest Online, the single greatest resource for all things DCAU and beyond
.
Reading that writer's bible, you can see that so much of what made B:TAS in general so brilliant was no accident. It wasn't just that a handful of smart writers tried their damnedest to tell great Batman stories. These people had a vision, and set themselves with high standards right from the outset. Even though many of those plans in the bible were changed or scrapped before the first episodes even made it to air, the importance of that foundation cannot be understated, and you may be surprised just well the greatness of that show was planned from the outset.
Which, naturally, brings us back to Harvey. Before we look at any of the DCAU episodes, comics, toys, merch, Happy Meal boxes, and so on, let's look at the roots of Two-Face in the DCAU--the design, the groundwork, the plots, the voice, and more--as we examine what was planned... and what was changed.
(
Collapse
)
Next time: Harvey's very first (and very brief) appearance in
On Leather Wings
, followed by a major role in
The Batman Adventures
comics, which I consider to be the very best appearance of pre-insanity Harvey in the DCAU.
*Honestly, I could write a couple hundred posts just about the DCAU villains in general. I'd love to look at all the Mister Freeze stories, since the DCAU comics fill in the gaps between episodes and
Sub-Zero
that, combined with his finale in
Batman Beyond
, make for a powerful tragedy in epic scope. I mean, even more powerful than the one people already know if they've just seen the episodes. The comics, as I was reiterate throughout these posts, are THAT good.
**The fact that Harvey, Thomas Wayne, and the Bat-Computer all have the same voice raises a few questions about Bruce. Did he pattern the Bat-Computer to sound like his father or Harvey? Is he friends with Harvey because the latter sounds like his father? INQUIRING MINDS THAT READ TOO MUCH INTO THINGS WANT TO KNOWWWWWWWW.