Okay. I've put this one off long enough.
One of the reasons why I've come to love Hugo Strange is because of how the character was uniquely developed over the decades by a handful of writers, each of whom directly built upon the previous stories. While Joker, Two-Face, Penguin, and other villains varied wildly in how they were written (Continuity? Character consistency? BLASPHEMY! MOAR EVIL PLOTS AND DEATH TRAPS!), Hugo was the only character to have a linear progression from the Golden Age all the way to the early 2000's! It was so rare, so precious, so goddamned unusual, that it was well past time for SOME writer to come along and fuck things up. That writer happened to be Doug Moench.
Now, I know I've ragged on Moench a lot, but until this point, his track record with Hugo Strange had been stellar! He wrote
two
fantastic
Hugo stories, including one of the greatest Batman stories ever. I suppose it was only inevitible that his general Moenchness would catch up with him by the time he made the foolish decision to write a sequel to
Prey
over a decade after the fact, so he could properly depict the return of Post-Crisis Hugo Strange.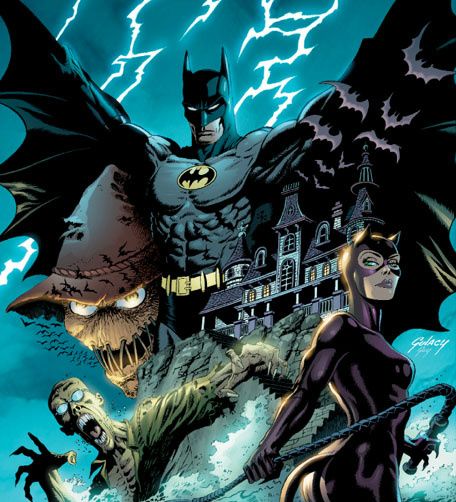 Yes, Catwoman, spines work that way.
Here's a thing, though: Devin Grayson already
told
Hugo's return a few months earlier in the pages of
Gotham Knights
, in her fantastic
Transference
storyline. That story, set in modern continuity, made it clear that Hugo hadn't been seen since the events of
Prey
way back around the
Year One
continuity. Got all that? Well too bad, because Doug Moench decided to make that even MORE convoluted with
Terror
, which clashed with established continuity!
More importantly, though, is the fact that
Terror
sucks. The main problem is that Moench tries to cram in several plotlines--all of which he's regurgitated lazily from earlier in other, better stories--and falls flat in every instance. But I don't want to undersell its quality, nor conversely, oversell its entertainment value for awfulness.
(
Collapse
)
If you'd like to read
Terror
in full--including the extensive Catwoman subplot and full details of the Scarecrow's revenge campaign--
both it and Prey are finally being collected in one single volume.
It's probably the smartest thing to do, even if the sequel is vastly inferior, but the whole collection's worth tracking down for the first story alone.