Back in the awful days of the 1990's--the era which DC, Marvel, and Image now seem hellbent on reliving in their own ways--superhero trading cards were prevalent, fitting in with the "EVERYTHING WILL BE A COLLECTIBLE INVESTMENT GOTTA CATCH 'EM ALL" mentality that nearly sank comics as a whole. As with all things, most of these were crap, but there are a couple sets for which I still have affection, largely for how they introduced me to the greater world of comics. Yeah, I have nostalgic love for my gateway drugs.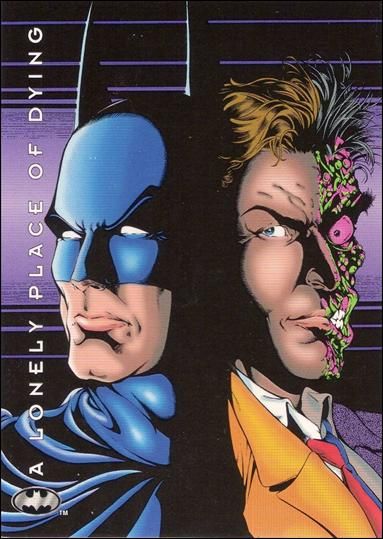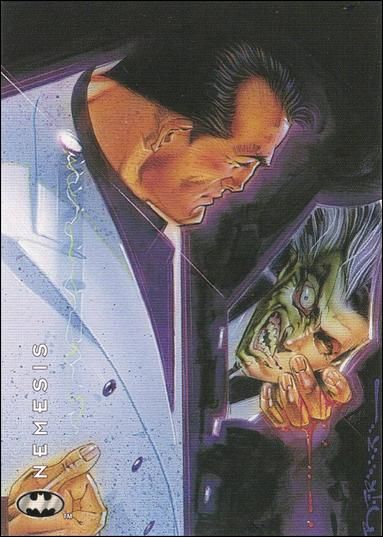 For example,
Skybox's Batman: Saga of the Dark Knight
single-handedly introduced me to Batman's Post-Crisis mythos from
Year One
through
Knightsend
. It was a great idea to focus on Batman's history, big storylines, key moments, and major characters, and while it's largely dominated in the whole
Knightfall
mythos, it still holds up as a great overview of an entire era of Batman comics.
(
Collapse
)
Of course, those are just the Two-Face cards. I've found scans of the whole set
over here
, but be warned, they're of varying quality. More than any of the others, I really wish I had high quality scans of Rick Burchett's
Year One
cards, as well as the villain profiles. Thankfully, I've managed to find some great scans across the internet, including the original artwork for a few!
I'd hate Ponytail!Joker as an awful remnant of 90's-ness, except that his one story by Dixon and Nolan is fantastic. It is the ONLY good story to come out of
Knightsquest
. I defy you to name a better story, or even a decent one. But even if I didn't like that story, I'd still like this piece. He's just got
flair
, damn it.
(
Collapse
)
Since we're on the subject of villains (and when are we not?), this brings me to my other favorite cards:
DC Villains: The Dark Judgement
, a tie-in for the subpar
Underworld Unleashed
crossover event.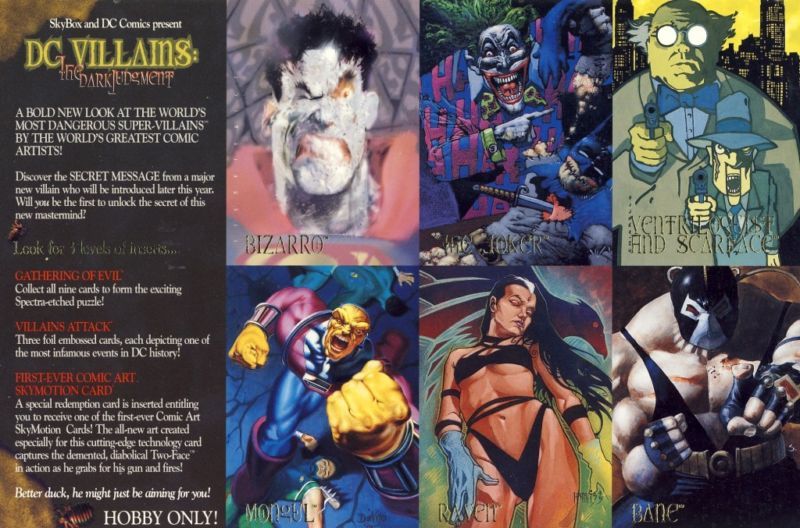 These cards were decidedly more grotesque, and much of the art is not to my tastes, but I still love any celebration of villainy for comics. Once again,
you can find the entire set scanned here
, which can give you a fascinating who's who of characters from the mid-90's, including forgotten villains from
Fate
and
Guy Gardner: Warrior
, as well as an astonishing number of heroes turned evil. Like Raven from Teen Titans. That's her up there between Mongul and Bane. What in the name of god is she wearing? I mean, she's nearly naked, so must clearly be evil now, because sex is bad, but still.
(
Collapse
)
That wraps up the Batman villains, but as always 'round here, it always comes back to Harvey Dent. If you read that promo sheet above carefully, you may have noticed something about a very rare "Two-Face Skymotion Card" which featured "cutting-edge technology" to show Harvey turning and shooting... AT
YOU!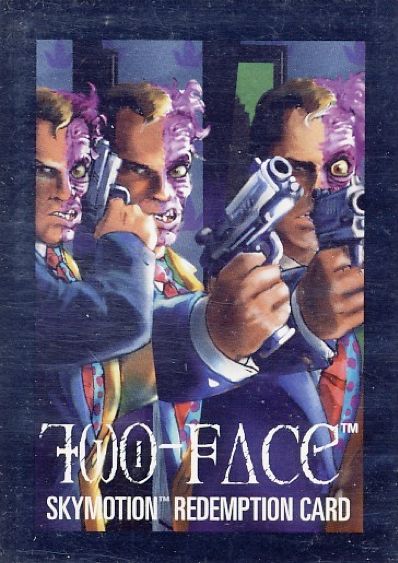 (
Collapse
)
These images can't quite give the same effect as seeing it in person, but you get the idea. It's pretty damn cool all-around, and by far the most detailed lenticular effect that I've ever seen. I wish I knew who drew it so I could them proper credit, but information about these cards is scarce enough as it is. And that's a damn shame. Maybe it's just my nostalgia talking, but I love these cards, every last one: good, bad, and ugly alike.
Just like Who's Who, they were a wonderful sampler platter for the world of comics, and sometimes, the way I ended up imagining the characters and stories turned out to be better than the comics themselves! I do miss when everything was new and awesome, when possibilities felt limitless, and there was a wealth of stories out there for me to discover. At least with back issues, I know the last part is still true when it comes to superhero comics. Maybe someday I'll be able to feel that way about new comics again too.