Or "REVIEW
ALL
THE EPISODES!" I was originally going to include his larger supporting roles in here as well, but I'll save those for later.
So: with Harvey's origin as Two-Face out of the way, he went from being a little-seen heroic supporting character to joining the villain ensemble right alongside
the guy who tried to kill him on live TV
and
his poisonous ex-almost-fiancée
. It's not exactly the sort of company you'll expect to see Harvey enjoy no matter the mental state. But then, one has to imagine that it initially wasn't his choice, given that he was sent to Arkham Asylum. We first see Harvey at his new locale in the episode,
Fear of Victory
, as Batman goes to Arkham to find Scarecrow and has to pass a gauntlet of his biggest enemies at this point in the series: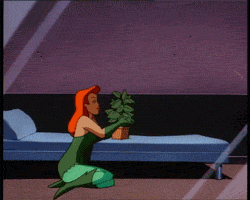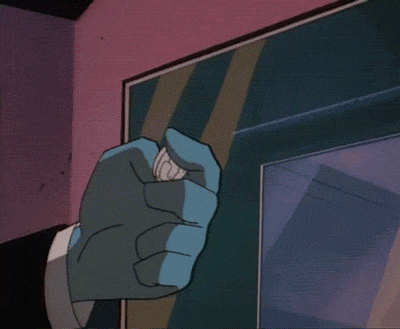 Source: afiveseven
He just sits there, heedless of Batman, staring at nothing and flipping his coin. Is he just passing the time? Is he thinking, brooding, and/or scheming? I sometimes like to think that both sides are arguing, and the coin is the arbiter between them, but this isn't apparent to any outsider observers.
This scene has a personal bit of "Cool story, bro" significance for me, since this was the first time that I saw Harvey as Two-Face. Either I missed the two-part origin episode when it first aired (which is bloody unlikely even for me at ten years old, since I watched this show religiously), or more likely, Fox did
what Fox
always does
and aired the episodes out of order. I mean, it's just a
kids
show, who the hell's gonna notice, amirite?
As such, this scene from
Fear of Victory
was the very first time I saw Harvey—good ol' Harvey, the idealistic lawman, romantic idiot, and best friend—fully transformed into Two-Face. Even as a kid with limited comics knowledge, I knew what Harvey was going to become, but the shock of suddenly seeing him already there (along with the show's unique design of that black-and-white suit and that strikingly sickly blue scarring) is forever burned into my memory. It gave watching the actual origin episode another layer of tragic inevitability.
But was that the only cameo? No sirree! In fact, the others echo this one in their own ways, the next of which is decidedly disturbing:
(
Collapse
)
Yeah, that's it for the last Harvey cameo. Kind of an anticlimactic ending, ain't it? Well, that's the hand I'm dealt, as there are no more cameos after this. Well, no more that take place in Arkham, anyway. There's one more major cameo in
Batgirl Returns
, but I'll save that for the
Shadow of the Bat
review.
To make up for that, here, have an encore presentation of the best gif in the world right now, just for the benefit of those who aren't going to read past the cut: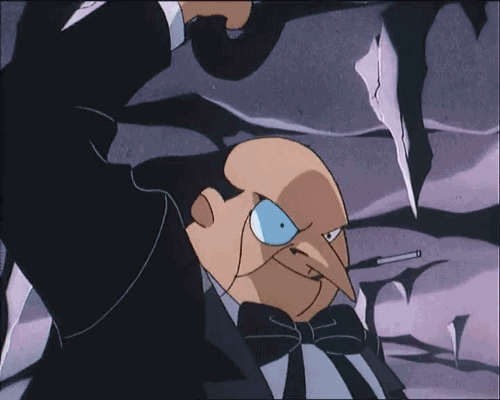 It's hypnotic. Like a lava lamp.