Hey, everyone! Henchgirl and I have successfully made the seven-day road-trip journey up to Alberta, CA for the
Calgary Fringe Festival
. As predicted, I've been too stressed, exhausted, and just plain busy with our show to compose any new reviews, but I couldn't help but post one thing, which Henchgirl pointed out to me on the sign outside of the local Calgary Home Depot: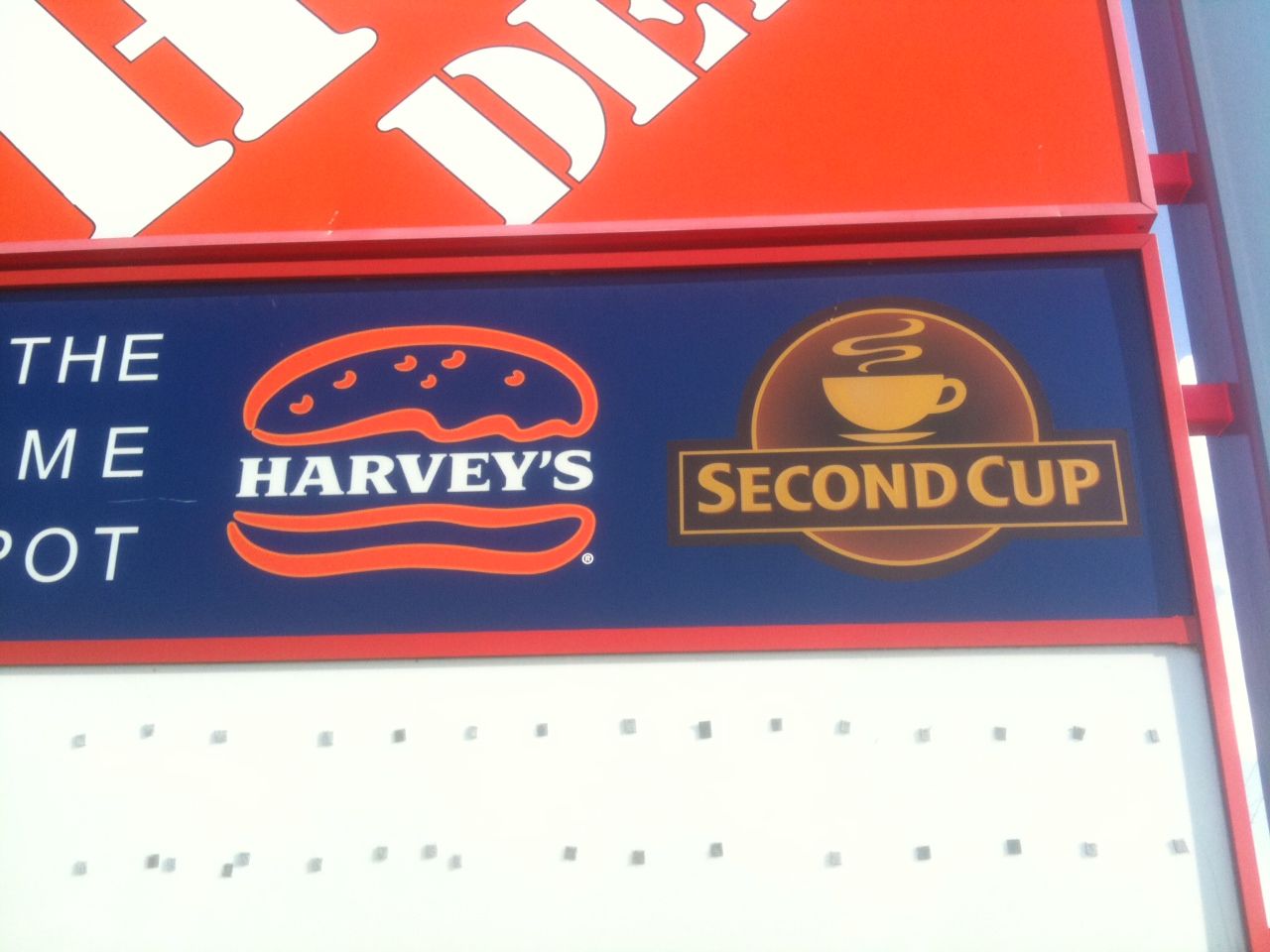 "I will order a half-pound burger, and wash it down with a double-shot of espresso! And since this is Canada, I shall pay for it entirely with
TOONIES!
MWA-HAHAHAHAHAHA!"
... So yes, apparently I'm feeling better when it comes to Batman silliness. :)
That said, some of you have taken me up on my offer to write guest reviews here, which is awesome. If anyone else wants to write something, let me know! There are a few stories on which I still call dibs, considering that I do have about a dozen half-written entries on hand, but still, if there's something you want to write about, comment here or PM me and let's hash it out! For example, I vaguely recall that one of you folks way, wayyyyy back in the day expressed an interest in reviewing Azzarello's
Joker
graphic novel, but I can't remember who it was. That's one I'd definitely like to see tackled, but it's not high on my own priorities.
Finally, I'd like to give a quick shout-out to my friend
John Roberson
, a comic artist who is currently selling both comics from his collection as well as his own art to fund his move from Seattle to San Francisco. He's got a lot of great stuff for sale, including rare and cool comics, books, music, and more. Over at
his eBay store
, you'll find stuff like bundles of
Animal Man
(both Morrison and the unreprinted Milligan/Delano runs), original
Swamp Thing
issues, and a complete run of the infamously oddball
The Shadow
run by none other than
about_faces
favorite Andrew Helfer! I really must review one issue of Helfer's
Shadow
in particular at some point. Over at John's
Amazon.com store
, you'll find more comics, plus rare books and music! Finally, if you'd like to check out John's own comics work,
you can buy his comics at his official store
and even pick up
some of his original artwork (which is VERY VERY *NSFW*)
. So yeah, check out those stores and see if there's anything you'd like to own, all for the noble cause of helping to get my friend the hell out of Seattle.
Thus ends the checking-in for today, folks! Thanks as always for your continued readership and contributions! Back to the hiatus for me. Be seeing you!