Welcome back! As I said at the end of
the first part
, the Two-Face subplot is
Batman: Dark Detective
is one of the oddest damn Harvey stories I have ever read. To this day, I'm still not sure whether I like it or not, which is one reason I wanted to examine this story in full. I just put it off for years because I expected that it would be a pain to parse out.
What I
hadn't
expected was that I'd also be giving Silver St. Cloud's subplot just as much attention, which is one reason why this review is spread out over three rather large parts. Why would I devote so much additional time and energy to a character and storyline which only drags down this story as a whole? Well, I recently discovered something about that storyline which is actually very relevant to our interests, but before I can explain what that is (and what could have been), we need to examine what Englehart was trying to do with his OC love interest and her bland but dutiful fiancé, Evan Gregory.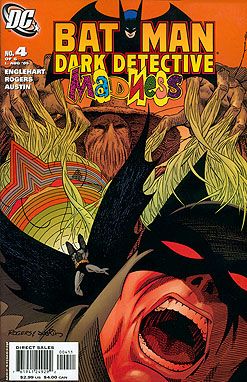 The odd man out of this story is the Scarecrow, whose inclusion here serves as more of a way of furthering the plot along rather than anything having to do with the character himself. Whereas Harvey and Silver/Evan's stories are seemingly-unrelated plotlines with connections I will eventually explore, Scarecrow is here solely to motivate Bruce. That said, Englehart does have a couple of his own...
unique
ideas of what makes Professor Crane tick, so let's look at that too, and then you can let me know whether or not you think Englehart's interpretation holds any water.
(
Collapse
)
On that cliffhanger, I think this is the perfect time to end this review. In the next and final part, we'll take a look at Harvey's recovery from these events, plus we'll see what I consider to be some of the greatest Joker moments of all time. We'll also witness the literal fall of Evan Gregory, how it would have led to the sequel that never was, and how Christopher Nolan's
The Dark Knight
might--or might not--have been "inspired" by this story.
Edit: Part 3 is up! Go go go!