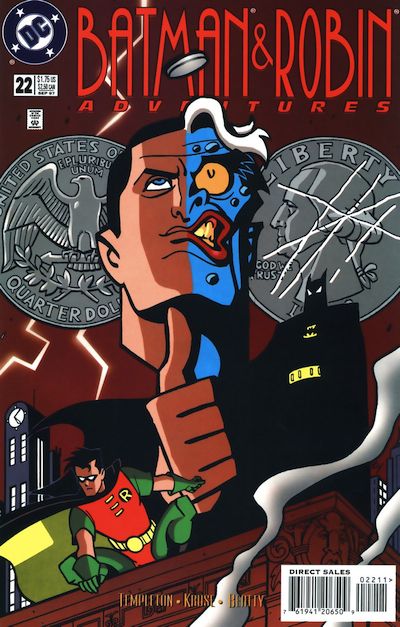 Ty Templeton was
the original DCAU Batman comic artist
who returned to title when it was rebooted as
The Batman & Robin Adventures
, but it wasn't until issue #4 that he took over writing duties. His writing style wasn't quite as gracefully operatic as the Puckett/Parobeck era of
The Batman Adventures
, but he more than made up for that by packing each issue with character moments that expanded upon the lives of these heroes and villains between the televised episodes, as well as the comic appearances that the show would never end up acknowledge.
This was especially true in the case of Two-Face, especially in the aftermath of
Paul Dini's Two Timer from TB&RA #1-2
. As you'll recall, that story expanded upon both Harvey's rehabilitation and his relationship with Grace Lamont, only to destroy them both seemingly beyond repair in a soul-crushingly depressing ending. If that were an episode of the show, that would have probably been the end of it, considering how little interest the show had in exploring Harvey as anything other than a villain for the vast majority of his appearances.
Thankfully, Templeton--who was the artist on
Two Timer
--had different plans, and he wrote three stories which each respectively fleshed out Harvey's life, backstory, and psyche. With the first of these,
Fifty Fifty
, Templeton told an unusual Two-Face tale that explored the limits of Harvey's adherence to his coin, and in the process, he managed to bring Grace Lamont back to the DCAU one final time in a way that provided some small measure of closure to their broken love story.
Unfortunately, the art by Brandon Kruse and
Wild Dog
co-creator Terry Beatty isn't quite up to par with the likes of Parobeck, Templeton, and Rick Burchett, and it's easily the weakest part of this issue, but at least we're treated to Ty's fantastic cover. It's a beautiful take on Harvey, although some of you more observant Two-Face fans might notice something a bit off about the coin. Don't worry, unlike the show's weirdly inconsistent depiction of the coin, this time it's quite coincidental!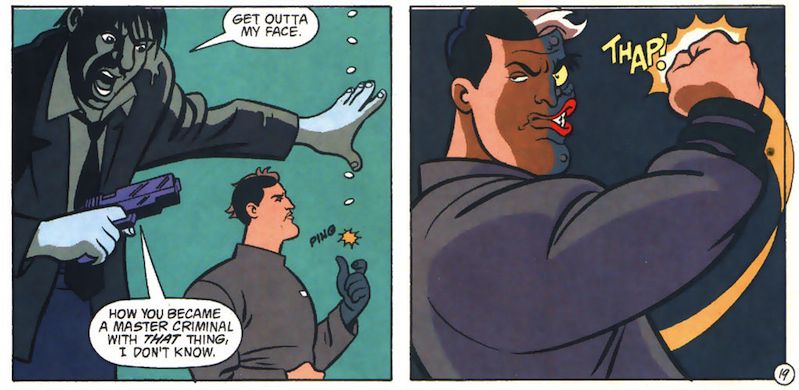 (
Collapse
)
Want to buy this issue? Well, if you want a digital copy, then you're out of luck. While DC's digital comics story at Comixology has been posting most of the DCAU comics,
their run of The Batman & Robin Adventures cuts off at the issue RIGHT BEFORE this one!
Argh!!! So keep your eye on Comixology, and maybe someday it'll be added. In the meantime, you totally should catch up on this great series, especially issues like
the greatest Ventriloquist and Scarface story of all time
, great slice-of-Gotham stories like
Dagger's Tale
, and
this Riddler/Batgirl story
, where Templeton proves his proficiency with neglected DCAU villains by writing one of the very best takes on the Riddler. Good stuff, all!