As
killermoth
pointed out to me in my last post
, writer Peter Tomasi has announced that Harvey will soon be appearing in
Batman & Robin!
As I said before: not sure if want. On one hand, Tomasi's last big Two-Face story,
Nightwing: The Great Leap
might be one of my favorite Two-Face stories, despite its considerable faults. On the other hand, there are those considerable faults to... well, consider.
What's worse, I love it for reasons that seem to go against what Tomasi's own narrative WANTED me to feel. I can't tell whether or not the narrative is siding with Nightwing's own awful, offensive, and incorrect view of Harvey, especially since it seems to give Dick the last word while making Harvey just look like an evil monster. Furthermore, I hate the direction it took by suddenly turning into another bland "Two-Face goes on a rampage" story. Also, I hate Gilda being supplanted by Not!Rachel Dawes in Harvey's heart, because the idea that Harvey had an emotional affair with someone while staying with Gilda only out of his marriage vows? Wow, bullshit. Never mind that Carol was a bland non-character who was written as little more than a talking
MacGuffin
.
Also also, Tomasi was the show-runner on
Batman: Face the Face
, one of the worst Harvey Dent stories ever written. What made it especially bad was how it had a couple good ideas, then utterly pissed them away in a story riddled with plot holes, cheap writing, and an annoying ending that remains maddeningly unresolved. I guess no one cares about that story and/or Harvey and/or the Great White Shark to actually give Harvey some goddamn closure in regards to his business with both Batman and Warren White. Honestly, I think the closest we're ever going to get to a proper follow-up to that waste of a story is this fan-doodle by Shark role-player blog
Business-and-Bites
: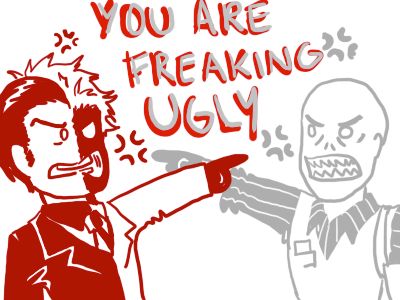 ... So yeah, okay , there is a LOT going against Tomasi here. But he's still a great writer, generally speaking (his first run on
Green Lantern Corps
was especially excellent), and if he can tap into the good parts of his Harvey from N:TGL, then that will be awesome. Or at least, definitely worth reading. Even if his track record with the character is mixed, I'd rather see him try than anyone else on the Bat-books currently. Just as long as he doesn't delve too much in Harvey's past. So far, I haven't seen a single villain origin reboot that hasn't been disappointing at best and infuriating at worst. Funny/sad thing is, despite Tomasi's last retcon of Carol Birmingham, I think I'd still rather see him try tackling Harvey's past over any other writer at DC right now.
Hot on the heels of Tomasi's announcement, Harvey did indeed appear at the very end of
Batman and Robin the Red Hood
, making a full page cameo after an issue that featured Carrie Kelly (yes, Frank Miller's Robin from TDKR, she's here now) being caustically annoyed with Bruce, followed by
Bruce being an utterly selfish ass to Jason.
After that unpleasant fallout, the issue ends inexplicably ends on this quiet, minimalist note:
(
Collapse
)
As you can see, it's nothing more than a teaser for Harvey's next big appearance, with no indication of what it might be or what he might do if that coin came up scarred. Really, this page could fit in with any Two-Face of any era, which is a major reason why I like it so much. Even if the story doesn't amount to anything, at least we've gotten the neat above page out of the bargain. It's certainly the best Two-Face material to come out of a mainstream Bat-book from the New 52 so far! It only took DC about two and a half years, so that's appropriate!
Incidentally, I've edited this page a little, as it originally featured a next issue blurb in the corner that read "NEXT: BATGIRL IN
THE BARGAIN!
" and I thought that we were all better off seeing this art unencumbered by the distraction. The page's artist, Patrick Gleason, apparently agreed with me, as
he was one of the few to reblog this image when I posted it to Tumblr!
Neato! Thanks, free MS Paint knock-off software!
So yeah, I'm now good an' interested in seeing how Tomasi and Gleason's upcoming Two-Face story will play out. Only thing I'm wondering is if Harvey will retain Gleason's same molten-face look--one reminiscent of
Dick Tracy villain Haf-n-Haf
--from his cameo early on in this book's run.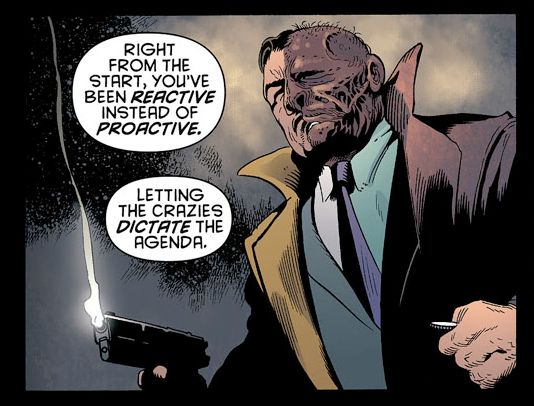 From Batman and Robin #4. Will he look the same in his first full appearance about twenty issues later?