First things first, I wanted to mention this yesterday, but my son Hal just turned two, and oh my god, the Terribles Twos have arrived in (what I sure as hell hope is) full force. As a fan, this amuses me greatly. As a father, my ears will never stop ringing from the tantrum screams and I will never sleep again. Hey, look, I'm of two minds about it! Whee! ... Well, what do you want from me, I'm exhausted and have a toddler, it's the best I can do right now.
Secondly (enough two puns, Hefner!), guess what, you guys? After I posted about
The Beautiful Ugly
--the newest Two-Face story appearing in the digital-first
Legends of the Dark Knight
--I was contacted via Facebook by the story's co-author Derek Fridolfs! Besides the nice things he had to say about this blog, he brought to my attention that he's hosting an interview/discussion about
The Beautiful Ugly
with co-author Ken Jones over at
his own blog!
The first part from last week is here
and
the second just came out today
, in conjunction with the release of
the second part of TBU!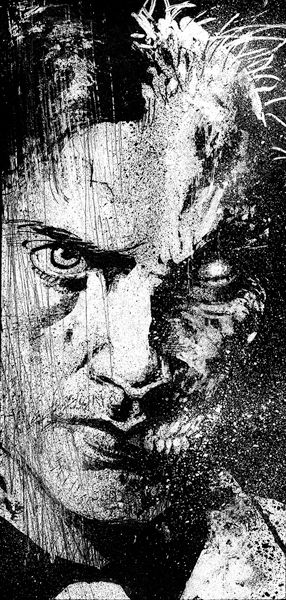 I had my reservations about the art last week, but wow, THAT is a Two-Face!
These discussions by Fridolfs and Jones are very cool, as they provide a rare insight into the creative process of writing a Batman story without any of the PR-soundbite-ness that comes from normal interviews at comic news sites. Reading through Fridolfs' blog, it's clear that this is a guy who loves Batman and the villains the same ways that I (and presumably many/most of you) do, which certainly explains why his work on
Batman: Arkham Unhinged
was always a solid read, often handling the villains better than the regular DCU did. He's first writer to actually explore the origins of
Killer Croc
and
Black Mask
for the first time since... well, since their original stories in the 80's, and
he also has a greater understanding and appreciation of Talia
than certain other comic writers and filmmakers do. I now wish I'd reviewed more of
Arkham Unhinged
, but I put it off so I could first review the rest of the Hugo Strange stories and then
Arkham City
itself, so I'm taking the opportunity to talk it up now.
Fridolfs is a cool guy and a great writer, so he's definitely worth supporting. Definitely check out his blog and read his discussions on TBU, and hopefully I'll have my own review ready to go shortly after the final issue and discussion both come out next Thursday. With one or two reservations, I greatly enjoyed the second part, and I'm anxiously awaiting to see how it wraps up!
With that, I'm off to enjoy the rest of my holiday. I was thinking about maybe doing a picspam of whatever patriotic Two-Face stuff I could find, but ultimately, I think I'll just stick with this. I've always been ambivalent about this piece from Grant Morrison and Dave McKean's
Arkham Asylum
, mainly because--in true Morrison fashion--it's all about using a character as symbolism rather than as a person. In this case, it's showing how America itself is two-faced, which is a perfectly valid idea, but not exactly one which applies to Harvey himself, especially considering that he's supposed to have written it. Nonetheless, for today at least, it's appropriate enough.
On that cheery note, I'm off to find a TV network that's airing
1776
, which has its own things to say about the light and dark sides of how this country was founded. I shall try not to incessantly sing "The Lees of Old Virginia" around Henchgirl for the next week, but I make no promises.