In case it hasn't been clear from how much I've been taking this up, I absolutely love
The Beautiful Ugly
, the latest Two-Face story from DC's
Legends of the Dark Knight
. Although only a one-shot issue in length, it's a story that works on multiple levels as a crime thriller, character study, urban tragedy, and as a exploration on both vigilantism and the limits of our criminal justice system, something which has become depressingly topical of late. It's also one of the best Two-Face stories I've ever read, largely because it's one of the few stories to really tap into the character's rich-but-wasted potential.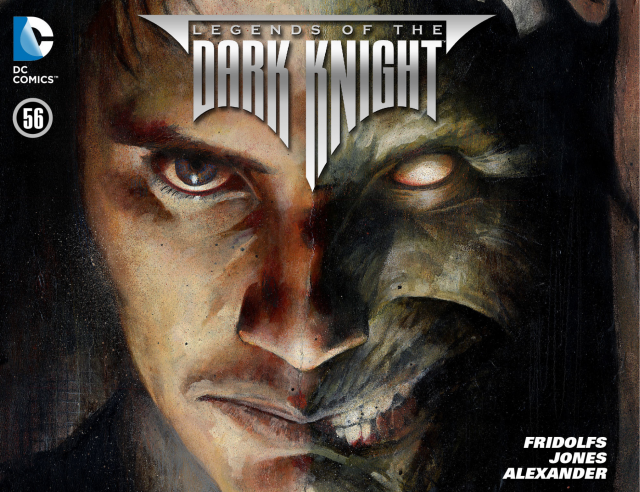 If you'll pardon the pun, Harvey Dent has always been
criminally
misused by writers. Over the years, he's played a number of roles--thief, bank robber, gang leader, mob boss, terrorist, supervillain--but none of them has ever made much sense for the character when you consider the character's history before the acid hit. This guy was a crusading district attorney, one of the only people fighting crime rather than committing it or simply just trying to survive in the corrupt hellhole that was Gotham City. Why would such a character just suddenly become the antithesis of everything he stood for and become the very thing he once fought? Why did he essentially become an entirely different character?
Part of the problem is that the majority of writers think of Two-Face as a scarred, coin-flipping, duality-obsessed gimmick gangster who once was a good guy. By only focusing on who he is
now
with little thought to who he was
then
, this has all too often led to the character being a cipher, one not rooted in any real personality nor motivation. This is probably the single biggest reason why there are so many mediocre Two-Face stories out there. Even still, the character has endured because, beyond the iconic visual appeal and his gimmick, there's the great
idea
of a character, one who could be used for many excellent stories if only someone would break him out of the usual villain roles and stop relying so much on the coin-flipping as a plot device.
Thankfully, comics writer (and sometimes inker) Derek Fridolfs felt the same way. He's an old-school Batman fan after our own hearts, and it comes through in his work on titles like
Batman: Arkham Unhinged
, the villain-centric tie-in comic for the
Arkham Asylum/City
games wherein Fridolfs frequently married comics and TAS elements into the Arkhamverse. In that series, Fridolfs was the
first
writer to really explore Killer Croc and Black Mask origins since both characters were created in the mid-80's, and his take on Talia al Ghul was far more in keeping with the character's morally gray canon than the Vigo-the-Carpathian-esque mustache-twirling villain she's become in the mainstream DC comics.
Point is, this is a guy who both loves and understands villains, so it's no wonder that
The Beautiful Ugly
--co-written by promising newcomer Kenneth Elliott Jones, who deserves at least half the credit here--is one of the only stories that seems to have some real insight as to what makes Harvey Dent tick.
Ultimately, though, to simply describe TBU as a character study for Harvey Dent--no matter how excellent--would still be a disservice to all the great stuff that Fridolfs and Jones--along with artist Jason Shawn Alexander (
Arkham Unhinged: End Game
)--have crammed into this taut little tragedy of Gotham City.
(
Collapse
)
If you're interested in owning
The Beautiful Ugly
(and you should!),
all
three
parts
from
Legends of the Dark Knight
#56-58 are available digitally via Comixology, as well as on iTunes, Kindle, and Nook stores, direct links to which can be found
here.
I also highly recommend you check out
Derek Fridolfs' blog
for tons of in-depth discussion about this story with his co-author, Ken Jones. It's a rare insight in the creative process of a comic by two very interesting, very cool guys who understand how to tell a great Batman tale worthy of the
Legends of the Dark Knight
banner.