For months now, I've been picking at my review of Batman/Two-Face: Crime and Punishment, written by the great J.M. DeMatteis, but I realize that I cannot fully analyze it without discussing how it relates to a storyline that DeMatteis wrote for The Spectacular Spider-Man five years earlier: The Child Within.

Unfortunately, NO ONE'S read this story. It's never been reprinted, and it's obscure even by the standards of your average Spider-Fan. Yet I consider it essential reading for themes DeMatteis plays with later in Crime and Punishment.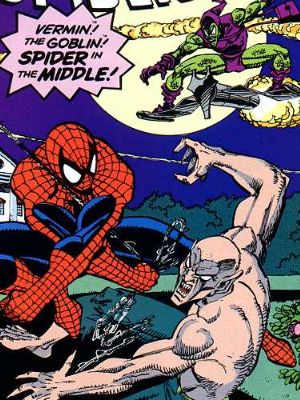 I was considering scanning and posting it here, but I'm hesitant to post Marvel scans here considering how temperamental they can be about such things. So instead, I posted the story to scans_daily, and I wholeheartedly urge you all to check it out over there. It's not just very relevant to the interests of Two-Face fans (as I think will become clear, especially if you've read Batman/Two-Face: Crime and Punishment), it's also an bloody excellent story.

God, I love DeMatteis' Spidey work. He writes the villains as being less "evil" and more like broken people. In essence, he writes them as if they're Batman villains. Sadly, his wonderful Spidey work is largely unrecognized by readers today, and most of it is out of print. It's crazy that The Child Within has never been collected, since it follows DeMatteis' Spider-Masterpiece Kraven's Last Hunt, and also directly lays the groundwork for the tragedy of poor, tormented Harry Osborn.

So yeah. If you can, check it out sometime before I get off my butt and review Crime and Punishment.


Finally, in other news,
greedyslayer alerted me to the best thing I've seen today:






Man, if only the real scene actually played out that way. Honestly, I never bought for a second that Harvey, in that state, would actually listen to anything the Joker had to say. Whenever I watch that scene, I see Harvey less as someone thinking, "Hm, his ideas intrigue me, and I would like to subscribe to his newsletter" and more "KILLYOUKILLYOURAYCHULLARGLEBARGLEDEATH!"