As I mentioned a couple months back, Scott Snyder had announced that a young Harvey Dent would be featured in the upcoming new Bat-origin, Batman: The Zero Year. At the same time, DC's solicit for Batman #22 said (and still says), "The second chapter of "Zero Year" delves into Bruce Wayne's past with the Red Hood Gang and his run-ins with aspiring District Attorney Harvey Dent!" And guess what, that issue just came out today!

So, much as everything I'd seen from the first part of TZY left me cold, I couldn't resist plunking down an outrageous $3.99 to buy Batman #22, only to discover... no Harvey. Nothing. You might even say, ZERO. Instead, all I have is a story with a more-dickish-than-usual young Bruce Wayne goes up against the Red Hood who already acts just like the Joker, whom Capullo insists on drawing with a mouth, thus ruining the simple elegance of the hood's design while making the character look stupider than ever. There's also more with Edward Nygma and Bruce's duplicitous uncle, plus a flashback to Bruce's training that didn't seem to serve any real purpose. All in all, this was one of the lightest, breeziest 40 page comics I've ever read. Nothing really happened. I never thought I'd say this about Snyder, but it almost feels like Tony Daniel never left the title!

So I guess we'll have to wait for next month to see Harvey, as it kicks off six months of non-stop Two-Face as his next big storyline is released. Which brings me to something I should have written about weeks ago. Last month, I neglected to post about how DC is dedicating an entire month to their villains, including around a dozen one-shot issues for the Bat-villains alone. On top of that, the covers will be 3D, because we have to out-90's the 90's when it comes to gimmick covers.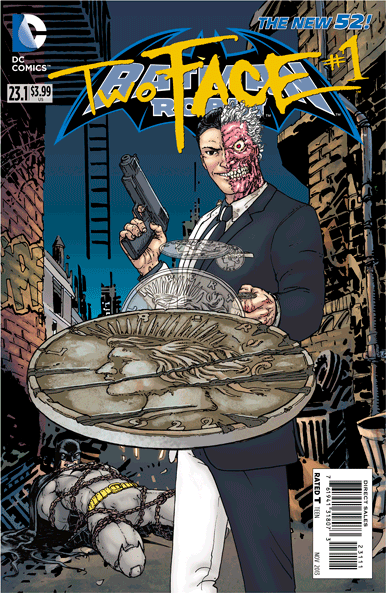 I should have posted about them all, but I just couldn't bring myself to care. Look, many of these just aren't the versions of the rogues that I'd want to read about (like Scarecrow, Freeze, and the new Ventriloquist), and as for the rest, well, I'm pretty much just expecting the worst from DC these days. It's just for self-preservation, mind you. I like being a pessimist because it allows me to be pleasantly surprised when things turn out better than I'd expected, so hopefully that'll happen with several of these.

Well, a month has passed, and this month's solicits have given us a few more scant clues about what to expect, especially where Harvey is concerned. After a teaser page in a recent issue of Batman and Robin (Whoever) and Peter Tomasi's big Two-Face story--the one tying into The Zero Year--has finally been announced in DC's newly-released October solicits, with a cover image to boot.




BATMAN AND TWO-FACE #24
Written by PETER J. TOMASI
Art and cover by PATRICK GLEASON and MICK GRAY
On sale OCTOBER 16 • 32 pg, FC, $2.99 US • RATED T
"The Big Burn" part one of five! Two-Face's first epic in The New 52 sees Batman unraveling the mysterious connections between Harvey Dent's life and the origin of Carrie Kelley!

My initial impressions and concerns haven't changed, so I'm still in "wait and see" mode. I will say how that's a nice cover, and the scarred eye is rather reminiscent of Lee Bermejo's in how it's all in shadow rather than showing the evil eye bulging out even in pitch darkness, as most other artists would do. That said, who's the blond woman? Guess we'll find out.

The solicit details also interest me, first because of how Harvey is sharing the ever-shifting byline of what was formerly Batman and Robin before that Robin was killed off. Since then, we've seen Batman and the Red Hood, Batman and Batgirl, Batman and Red Robin, and so on. So does this mean that Harvey will be allies with Batman in some capacity? I doubt it, because it doesn't seem like any writer ever wants to tell that kind of story. What I'm also wondering about is what--if any--connection Harvey will have in Carrie Kelley's origin, now that she's been brought into the DCnU. Will we be seeing a return of the grand tradition of Two-Face having a hand in Robin origins?

Harvey will also be popping up as an ensemble member in the main Forever Evil event series, if that cover is any indication, as well as in the special all-Bat-villain issue, also written by Tomasi: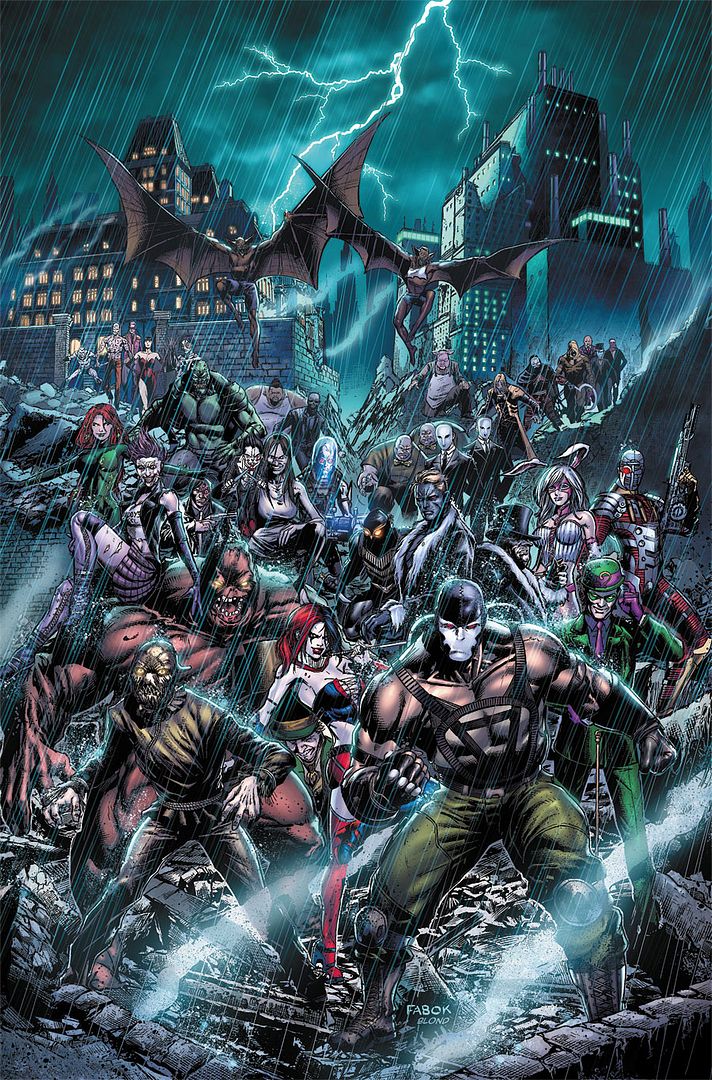 FOREVER EVIL: ARKHAM WAR #1
Written by PETER J. TOMASI
Art by SCOT EATON and JAIME MENDOZA
Cover by JASON FABOK
1:25 B&W Variant cover JASON FABOK
On sale OCTOBER 9 • 32 pg, FC, 1 of 6, $2.99 US • RATED T
Retailers: This issue will ship with two covers. Please see the order form for more information.
As FOREVER EVIL hits the world, no corner of the DC Universe is in worse shape than Gotham City! Madness and mayhem hit the streets as both Arkham Asylum and Blackgate Prison unleash their prisoners upon the helpless citizens of Gotham. And with no Dark Knight to protect the city, what horrors will follow?

As it's also written by Tomasi, it's likely that it will somehow tie together with "The Big Burn," so this will also be a must-read. That said... man, does anyone else look at that cover and feel a wave of apathy twinged with sadness? I call it "sadthapy!" But seriously, until this image, I didn't realize how much I didn't recognize the Bat-rogues in DC Comics anymore. It doesn't help that I'm not a fan of the art either, but still, I really have lost touch with what DC has become. Whether that's a flaw in me (old 30-year-old fogie that I am) or in the company itself, I suppose only time will tell. Well, at least I still have comics like Legends of the Dark Knight and Batman '66 to follow!

That's all for comic news, but before I wrap this up post to continue preliminary work on my review of The Beautiful Ugly, I would be remiss if I didn't mention the Harvey-related awesomeness that happened on the most recent episode of The Venture Bros! For those who don't know what VB is, it's a great big homage to geekdom of all sorts that was wrapped up in the pretense of a Jonny Quest homage before it quickly blossomed into its own unique mythos. It's also one of my very favorite shows, and this new season is no exception. If you're in the US and if you have a participating cable provider, you can watch the newest episodes of VB here for free at the official Adult Swim site!

In the newest episode, Momma's Boys, the titular characters wind up inside "Dunwich Asylum" (get it? I didn't at first!) whereupon they meet a number of insane costumed criminals, including a one-off bit role by of a new character who is relevant to our interests.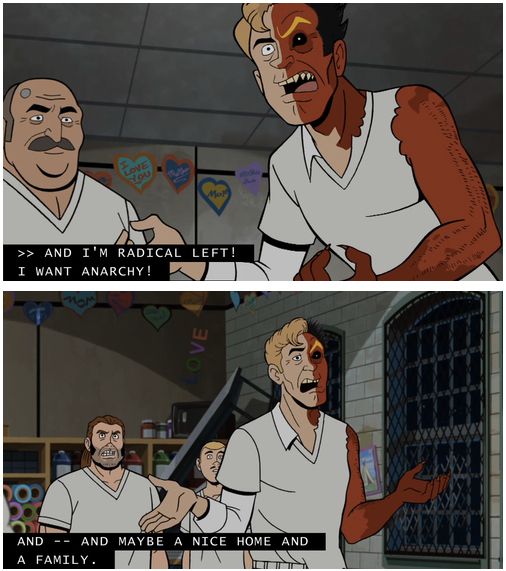 I absolutely love Radical Left, as he--just like VB's perfect Cobra Commander stand-in a couple episodes ago--is that rare and wonderful combination of parody and homage. Those lines wouldn't at all be out of place with Harvey himself, except that with Radical Left, his desire for anarchy and "a nice home with a family" don't have to be exclusive at all! Well, as long as you take "anarchy" by what it literally means rather than just using is as a substitute for "chaos," a mistake that most people make, including Christopher Nolan. Really, they could have just stopped with the visual pun of calling him "Radical Left" (they have a history of one-joke name parody villains such as Dr. Septapus) but that quote just took it the extra mile! If they do bring back Radical Left, hopefully they won't wear the joke out too thin.

Okay, back to the review for The Beautiful Ugly. The final part comes out tomorrow on Comixology.com, so definitely pick it up! One way or another, I think it's safe to say that this is a Two-Face story worth supporting!