As you may have heard from the annoucement at Comic Con, there's a major Batman event coming up in November centered around Two-Face! No, it's not the follow-up to The Big Burn (dang it), but it's every bit as awesome in its own way: the "lost" Two-Face episode of the 60's Batman show will be adapted to comics with an all-star roster of talent!





Photo credit: Bleeding Cool



Needless to say, this is a big deal. Not only is Harvey FINALLY going to be join the Batman '66 comics universe, but he will be introduced courtesy of a real script outline by a giant of science fiction, illustrated by one of the greatest DC pencilers of all time, and adapted by one of the most important writers of the Bronze Age of both DC and Marvel alike. That said, Wein recently wrote one of the most painfully mediocre Two-Face stories I've ever read, so hopefully his Two-Face characterization will be more in line with Ellison's perfect understanding of what makes Harvey tick, as described in the introduction of his outline.

It will be very interesting to see how this holds up as a story, given that Ellison's plot it one great big homage to Golden Age Two-Face, right down to Moroni, the acid in the face, and Gilda, whose sculpture of Harvey is a trophy in the Batcave! The script also features recreations of many Golden Age Two-Face heists from classic issues, including a chase at a motorcycle show and a plot to kidnap a lookalike of Abraham Lincoln, climaxing in a showdown that recreates the way Batman took down Paul Sloane. More importantly, the central conflict is not about Batman trying to stop Two-Face, but rather to save Harvey Dent before he crosses the line to murder and destroys any hope he might have of redemption. Wein's never been the greatest Two-Face writer, but if he can pull off this adaptation, it has the potential to be an all-time Two-Face classic. Or at least, a really, really solid tale. Here's the variant cover (the only one released thus far, and I can't wait to see Alex Ross'!) and solicit: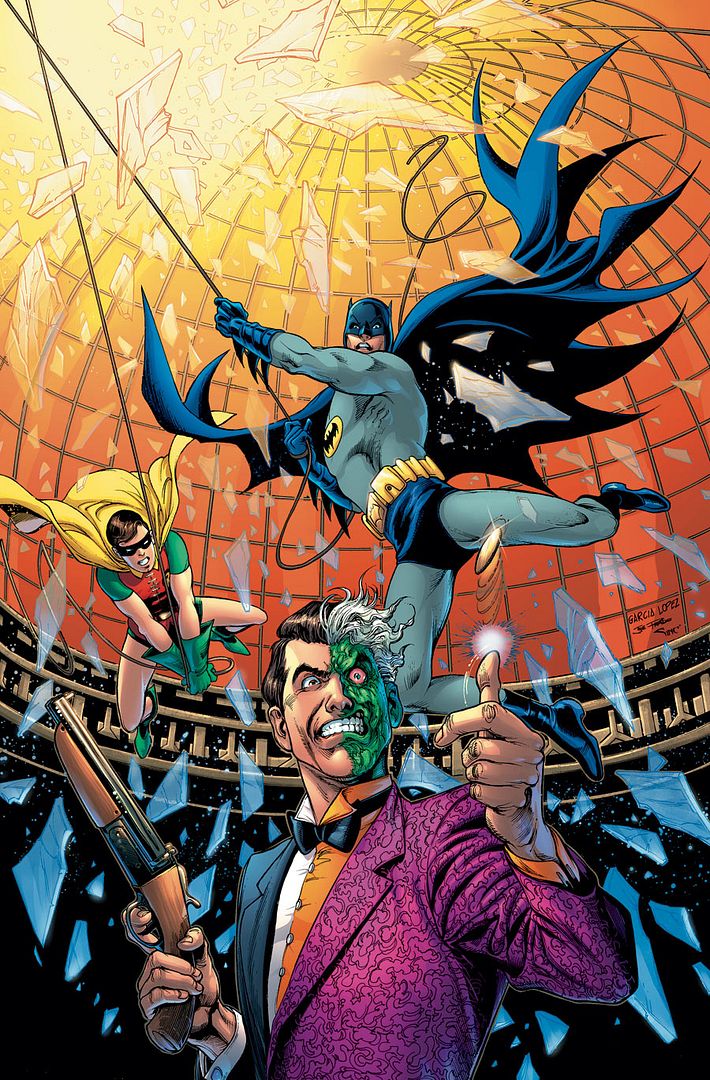 BATMAN '66: THE LOST EPISODE #1
Story by HARLAN ELLISON
Script by LEN WEIN
Art by JOSE LUIS GARCIA-LOPEZ and JOE PRADO
Cover by ALEX ROSS
1:25 Variant cover by JOSE LUIS GARCIA-LOPEZ and JOE PRADO
One-shot • On sale NOVEMBER 19 • 80 pg, FC, $9.99 US • RATED E • DIGITAL FIRST
Retailers: This issue will ship with two covers. Please see the order form for details.
During the original Batman television series run, legendary science-fiction writer Harlan Ellison turned in an outline for a story that would have introduced Two-Face. The story never made it to air, and Two-Face never entered the TV show's Rogues Gallery. Now, "The Two-Way Crimes of Two-Face" is adapted to comics by two comic book legends: writer Len Wein and artist José Luis Garcia-Lopez. Also included in this special edition are Ellison's original prose story outline and the complete, original pencils by Garcia-Lopez.

In anticipation of this event, I've taken down my previous reviews of the '66 scripts and will revise them into two separate reviews before the issue's release, reviewing The Lost Episode as the third and final part of the series. Maybe I'll also give a full review of Wein's Batman: Black and White story, but only if I can make the time for a story which may not even deserve that much attention. In the meantime, I'll get back to my reviews just as soon as I send my laptop off to Dell to see if it can be fixed, because it died this morning and I haven't backed up my files and ha ha ha ha ha I'm stressing like hell oh god. So, yeah. We'll see.

By the way, sorry if the formatting on this blog is off. LJ changed stuff around and I still haven't figured out how to go back a plain white background for the actual posts. Eh, maybe it's high time that I gave this whole blog a facelift (so to speak).